Bryndzové Halušky With Bacon (Slovak Potato Dumplings) is a national Slovak dish. Made from freshly grated potatoes, bryndza cheese that contains goat milk, and fried bacon. Bryndzové halušky is a way into the heart of many people in Slovakia. The whole process is very easy, quick, and soooo simple. Would you like to try it?
Video recipe for Bryndzové halušky (Slovak potato dumplings)
Here's what you will need for this recipe:
Ingredients:
2 500 g potatoes
400 g all-purpose flour
2 eggs
500 g bacon
500 ml sour cream
500 g bryndza (cheese)
2 tbsps oil
1 tsp salt
WHAT IS BRYNDZA CHEESE?
You will love this one if you are a fan of salty cheeses. Bryndza is a fresh cheese that contains at least 50% goat milk. This source of fat is known for its characteristic taste and strong smell. I would say not everybody will enjoy bryndza – but you can still prepare it in many different ways. To neutralize the taste and smell of this product, you can mix it with sour cream (as we do in this recipe), to make it more creamy and not so strong.
Bryndza is a very popular white cheese in East-Central Europe. Countries like Slovakia, Poland, the Czech Republic, Hungary, and many others use bryndza in their cuisines. The texture is crumbly, kinda moist but also tangy and salty.
The product can be used as a part of the filling in pirohy, osuch, bryndza's soup, spread, etc. In my household, we usually use bryndza to make a spread, these dumplings, and osuch. On top, you can add bacon, spring onion, a normal onion, or garlic. Slovak people love eating bryndza with a piece of bread or sourdough.
Chocolate Swirl Banana Bread With Nuts And Berry Sauce
Chocolate swirl banana bread with nuts and berry sauce is a very simple recipe where you only need two bananas. This banana bread is not too moist or dry. This loaf of perfectly balanced banana bread with a chocolate swirl is very easy to make at home as a last-minute dessert. The great thing about it is that it lasts in a fridge for a few extra days. Who doesn't like that?
Check out this recipe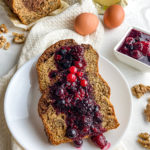 Sticky Sesame Chicken With Honey Sauce
Sticky sesame chicken with honey sauce is a quick and 30 minutes recipe. An ideal recipe for lovers of meat and honey. I don't usually eat meat, but if I do – oh boy. It has to be something special, like a mouthwatering experience. Sounds weird but it is what it is. And this recipe is IT. Better than a takeaway? We shall see.
Check out this recipe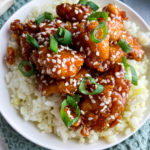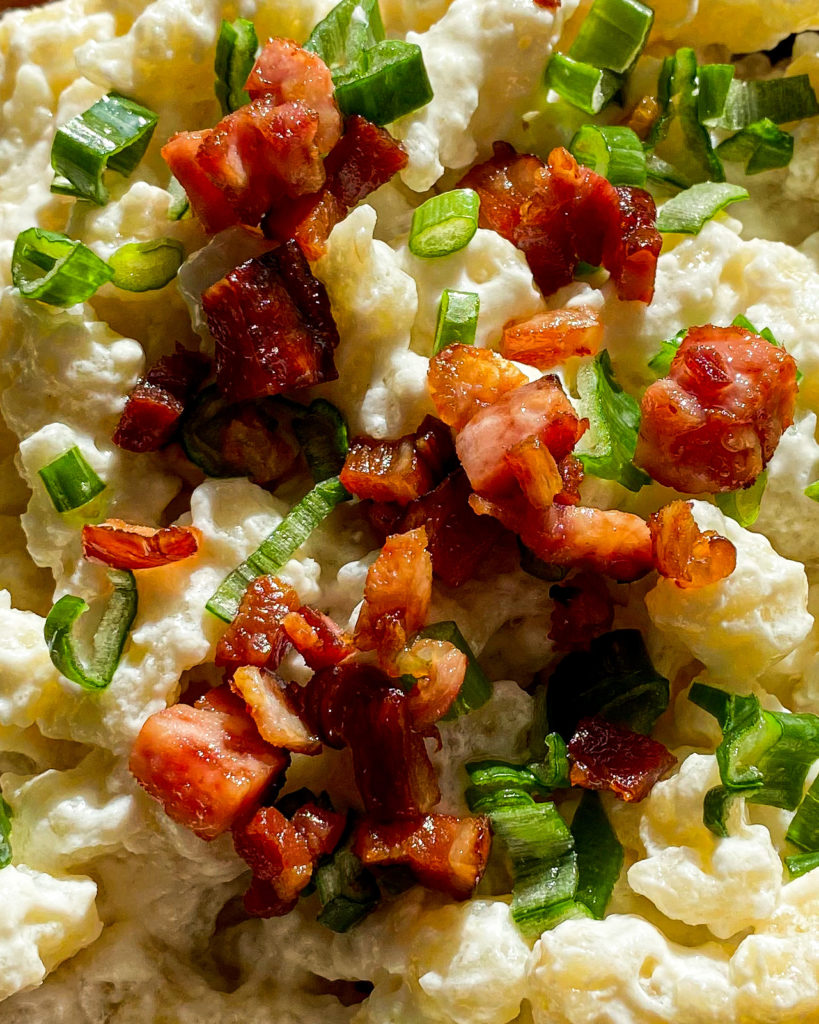 How do we make dumplings?
Here's the main thing – you can make flour, potato, or fine semolina dumplings. For bryndzové halušky, we make potato dumplings made out of freshly grated potatoes. To be honest, I don't think there is something easier than making dumplings.
All you need is potatoes, flour, eggs, and a pinch of salt. If the dough is too sticky, add a splash of water. Throw these ingredients into one big bowl. The next step demands a pair of strong hands that can knead the dough. Once everything is combined and the dough does no longer sticks to the sides of the bowl, it's time to make the best dumplings ever.
Grab a dumpling grader and put it over the pot with boiling water in it. Take a generous amount of dumpling dough and try to push the dough through the grader's holes. When dumplings start to float to the surface – they're done. Take them out of the water on the oiled-up baking tray so they don't stick together. Repeat the process until all the mixture has been used up.
If you don't own a dumpling grader, you can use a wooden cutting board and cut the dough into small pieces. Make sure they are 1×1 cm or smaller for the best results. Throw them into the boiling water and cook until they float.
My tip- from this amount of ingredients you can make enough dumplings for 8-12 people so I would recommend you to use half of the amount of the ingredients.
Would you like to see more of my recipes? Follow me on Instagram for more daily types of cooking or Tiktok.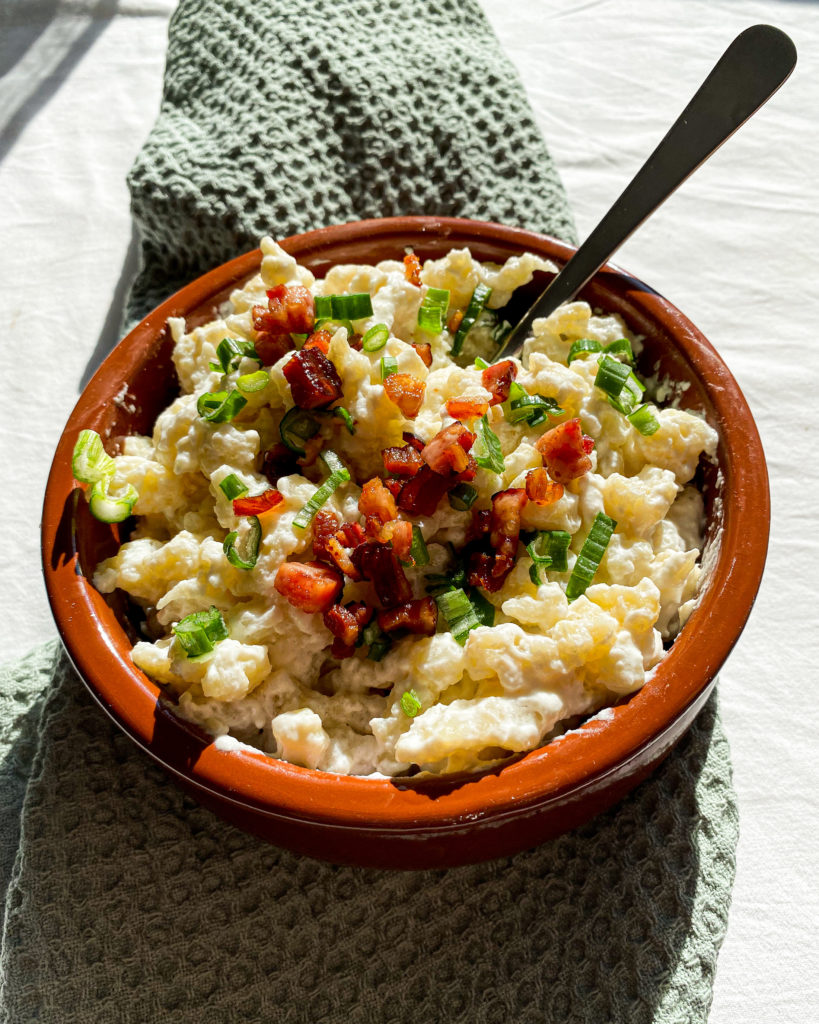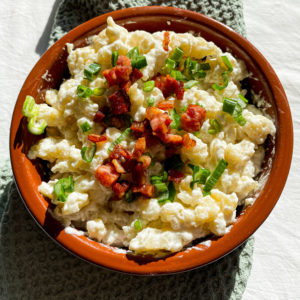 Bryndzové Halušky with Bacon (Slovak Potato Dumplings)
Here is a short recipe for a national dish of Slovakia – bryndzové halušky with fried bacon. Try out this delicious recipe with cheesy sauce.
Equipment
1 dumpling grater or a wooden cutting board
Ingredients
2 500 g potatoes
400 g all-purpose flour
2 eggs
500 g bacon
500 ml sour cream
500 g bryndza (cheese)
2 tbsps oil
1 tsp salt
Instructions
Peel and wash the potatoes. Grate them very finely and do not squeeze the moisture out.

Transform peeled and grated potatoes into a bowl. Add eggs, flour, salt, and knead the dough. The dough is ready when it no longer sticks to the sides of the bowl.

Boil the water in a big pot. Take the dumpling grader and push the dough through its holes. If the dough is too thick, add water. Scrape the dough into the boiling water in batches.

Once the dumplings float to the surface – take them out on the oiled-up baking tray so they don't stick together.

Cut the bacon into small pieces and fry on the hot oil or animal fat. Fry until the cubes of bacon are smaller and brownish.

In a bowl mix bryndza (cheese) and sour cream. I recommend using the whole package of bryndza and then adding sour cream a tablespoon at a time. Use as much sour cream as you like.

The final step – mix cooked hot dumplings with cold bryndza mixture, add bacon on top, and drizzle with extra hot fat.
Notes
you can use only half of the amount of the ingredients because from this batch you can feed 8-12 people 
you can use a wooden cutting board instead of a dumpling grader, just cut the dough into really small pieces
use as much bacon as you like