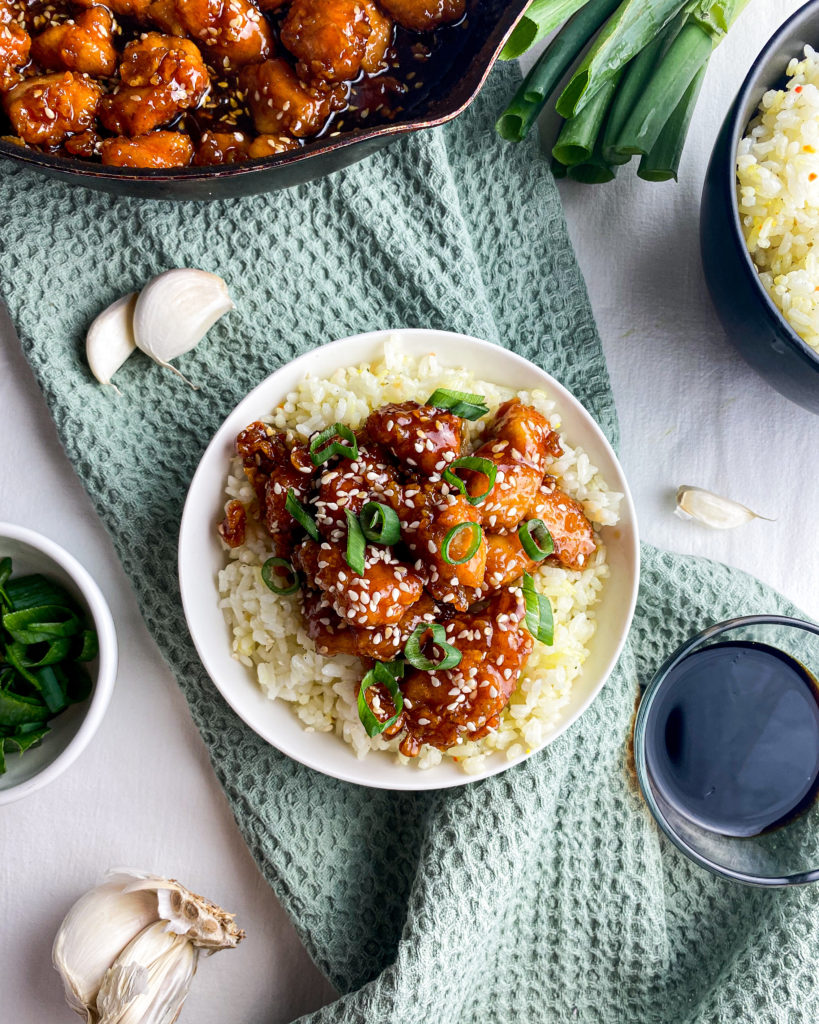 Sticky sesame chicken with honey sauce is a quick and 30 minutes recipe. An ideal recipe for lovers of meat and honey. I don't usually eat meat, but if I do – oh boy. It has to be something special, like a mouthwatering experience. Sounds weird but it is what it is. And this recipe is IT. Better than a takeaway? We shall see.
Listen kids, this is not an official recipe for sticky sesame chicken with honey sauce as you know it. And maybe it is. But this is my version, inspired by sticky sesame chicken, how I like to cook it at home. However, if you would like to see more of my recipes daily, follow me on Instagram so we can chat about it 🙂
I made this recipe and Tiktok loved it 🙂
Back to the recipe..
VIDEO RECIPE FOR STICKY SESAME CHICKEN WITH HONEY SAUCE
MY RELATIONSHIP WITH FRIED CHICKEN AND HONEY
This starts to feel like a diary but I have to tell you – I don't usually cook meat. I hate the feeling of raw meat touching my fingers, I don't like cutting meat and I believe that climate change is real. So eating less meat cannot hurt you (and you should reduce meat intake too). Click here to know more.
So now back to the story. After months (maybe even years) of eating meat like once in 4 months, I started to experiment with meat and recipes that include meat. So far, this one was my favorite. I like simple recipes, one-pot recipes that are delicious and don't take a long time to cook. Sticky sesame chicken with honey sauce doesn't need kilograms of meat to get cooked. With this recipe, you can prepare one chicken breast for one person and you are full. Trust me.
Honey also isn't my favorite product. I guess this comes from times when I was eating mostly plant-based and I used maple syrup very often. I kinda looooooooove maple syrup and as you could see, I can add a naughty tablespoon of maple syrup into almost every meal. The taste of honey is "not full" to me. I feel like honey doesn't have this strong sugar kick I like in maple syrup. Maybe I haven't tried a specific brand or type of honey, who knows.
But to be honest, when it comes to cravings I don't care if it's meat, fried, cooked, or swimming in the sauce full of honey. Cravings are cravings. And sometimes you cannot order the food you are craving into your house. So here is how you can make it at home.
HOW TO MAKE THE CRISPY CHICKEN
In this case, the cornstarch is your friend. This magical ingredient makes a barrier between meat and heat. Meaning, when you mix cornstarch and flour, you end up with a crispy coating. Why? Cornstarch prevents gluten development and absorbs moisture.
Frying meat only in the egg wash and cornstarch can leave you with nicely crispy chicken but also gives it a weird texture and flavor. You can absolutely do that, I know people who only use cornstarch (like for fried tofu). I prefer mixing cornstarch with flour and adding seasoning. Like paprika powder, garlic powder, salt, black pepper, adobo, harissa, and many others. Your meat will be crispy, nice smooth but still crispy texture, and well seasoned.
Here is an alternative recipe for vegans/vegetarians who would like to try this sticky sensation. Made with tofu and sticky orange sauce. It's very simply written but I promise it's delicious.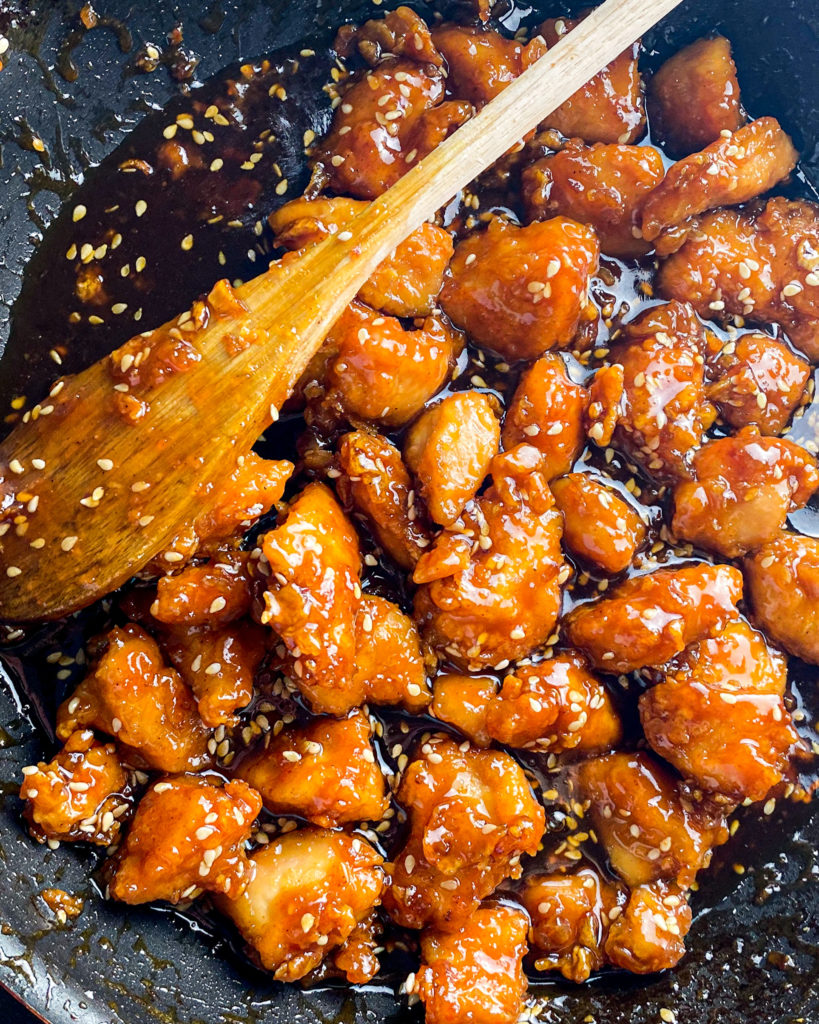 THE EXTRA EXTRAS YOU DON'T NEED TO KNOW ABOUT BUT CAN CHANGE THE MEAL FOR BETTER
For this meal, you can add also pieces of pineapple. I recommend adding pineapple right before the maple syrup so it gets enough time to cook, bring out the flavor and get that sweet honey taste. I was thinking about adding peaches instead of pineapple, so if you try it this way, let me know 🙂 Feel free to send me a message on Instagram or TikTok.
Another thing is to add fried noodles to the dish. I think this would give the whole meal also a nice texture. I tried to make fried noodles a few times and it went well. But I would still look for an OG recipe because you can make exclusive quality noodles at home. Everything is possible with a good recipe.
You can also spice up the meal with chili flakes. In this case, you end up with sticky sesame chicken with hot honey sauce. And that sounds deliiiiishhh.
I served mine with a good old bowl of rice (it was fresh rice but you know how I mean it..). This can nicely neutralize the meal and balance the sweetness of the honey sauce. And I am also guilty of adding more sesame seeds, because why not? We only live once.
The sticky sesame chicken with honey sauce is a perfect alternative to a popular takeaway option we all love. You can make it home in just a few minutes.
Miso Butter Toast
A salty toast made with miso paste. Add a fried egg on top and you have this fantasy breakfast option you would love to go after.
Check out this recipe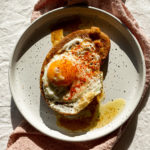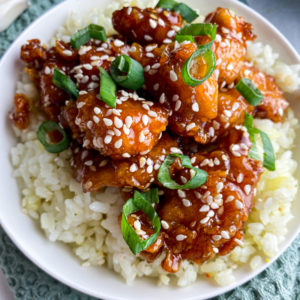 Sticky Sesame Chicken With Honey Sauce
One of the easiest recipes for sticky sesame chicken with delicious and thick honey sauce. This dish goes well with pineapple as well. Served with a bowl of rice.
Ingredients
500 g boneless skinless chicken breasts
120 g flour
½ tbsp garlic powder
1 ½ tbsp paprika powder
1 tbsp cornstarch
1 tsp salt
vegetable oil for frying
2 eggs
Honey sauce
sesame oil for frying
2 cloves garlic
2 ½ tbsps light soy sauce
4 tbsps brown sugar
4 tbsps honey
1 tbsp maple syrup
Instructions
Prepare the chicken breasts by washing them and cutting them into bigger cubes. Sprinkle them with salt.

Now prepare two bowls. Crack eggs into the first one, and then add flour, cornstarch, paprika powder, garlic powder, and salt into the second one. Mix well.

Dip the cubes into the egg wash and make sure you cover them in flour mix properly. Everything must be well covered to get them crispy.

Heat the oil in the pan, and once the oil is hot, add covered chicken cubes. Fry on the medium-high heat for 5-7 minutes or until they are golden on both sides. Then remove them from the pan on the plate lined with a kitchen towel.
Honey sauce
Heat the sesame oil in the pan. Add garlic and let fry for 2 minutes on medium-low heat.

Add soy sauce, brown sugar, and honey. Cook on low heat. Mix well until the sugar dissolves. Be careful, it can get a little bit bubbly but there is nothing to worry about.

Finish the sauce by adding maple syrup and stirring well. The sauce can look too runny but it gets thicker after a few minutes. If you are a little skeptical about it, add 1 tsp of cornstarch. Mix again.

Now, throw the fried chicken cubes into the sauce, and let it all cook in one pan for 5 minutes on medium-low heat.

In the end, just add a generous amount of sesame seeds.
Notes
this is not the traditional recipe for sesame sticky chicken, this is my version of how I cook this meal 
you can only use honey and remove the maple syrup from the recipe, I just like the sweet kick of the syrup 
you can be left with extra flour mix or honey sauce – it depends on how big your cubes are
if you would like to add pineapple into the recipe, just add pieces of pineapple into the sauce before adding maple syrup, so they have time to cook with the honey and get that flavor