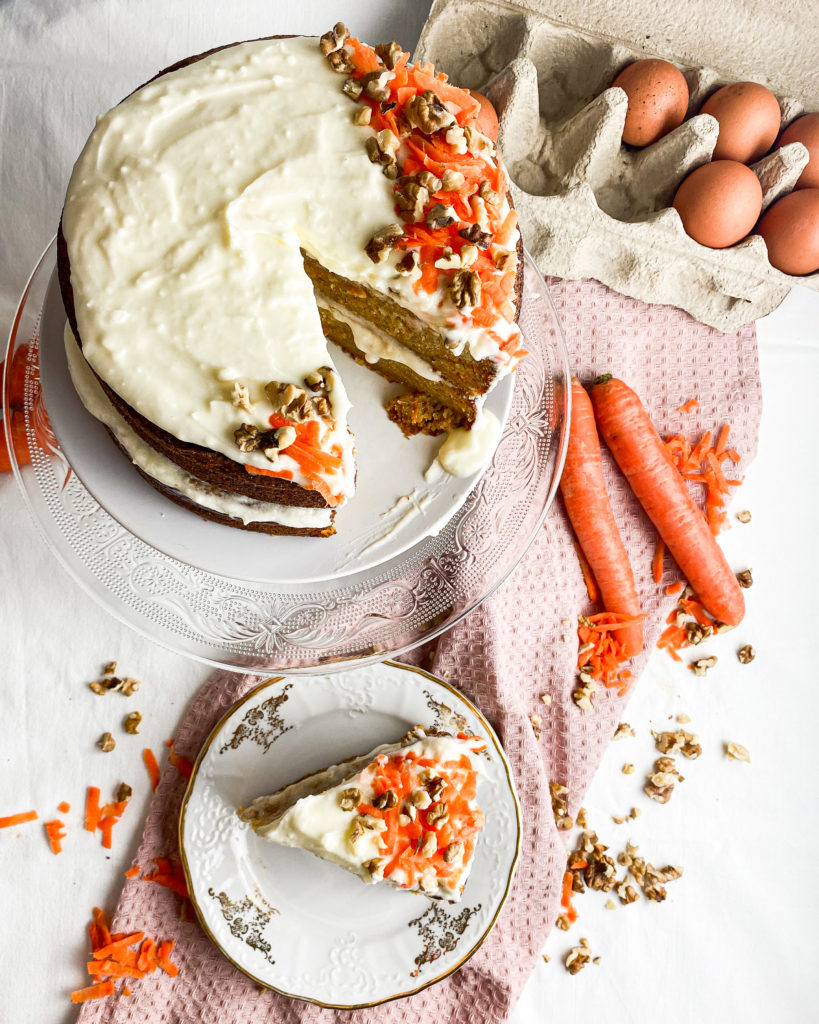 Carrot cake with mascarpone cream is a great option for people who like moist cakes. Soft layers of cakes taste like vanilla, cinnamon, and carrots. The best thing is you can make this carrot cake from scratch at home. The preparation is so easy (besides the annoying carrot peeling). So what, should we continue?
A VIDEO RECIPE FOR CARROT CAKE WITH MASCARPONE CREAM
CARROT CAKE IS THE OG OF QUICK CAKES WITH A SPECIAL TWIST
And I mean it. In my household, we've never really baked carrot cakes. There were more easy and traditional Slovak desserts we would make in under one hour, and we would be satisfied with the outcome. I think this carrot cake trend came with the Internet. Not gonna lie – any of my friends didn't bake carrot cakes at home when I was younger. I think that's why I don't connect carrot cake with my childhood.
But I remember being 12 or 13 (a very young teen girl), I was into looking up recipes on Youtube, and I found carrot cake muffins. I think this was the first "carrot dessert" I have ever tried. And I remember they were deliiiiish.
So, I genuinely think, that carrot cake is the OG of quick cakes with a special twist (carrots). In Slovakia, we have SO SO SO MANY basic cake recipes you can make in a few minutes (no joke). We usually put berries, pears, or cherries on top and bake until golden. That's it. Do you want anything special? Add cocoa, granko, chocolate chips and you have the chocolate version of the most basic cake.
I believe that this carrot cake is very easy and can be ready in 2 hours. You just have to keep it in the fridge for at least an hour to keep its nice shape. I didn't keep mine in the fridge long enough, and as you can see, the cream was melting like crazy. But it was still delicious.
In case you would like to see more easy desserts, you can check out my Instagram or TikTok. You can find video recipes there as well.
mixing the basic ingredients
For this cake, you don't need anything special. Four eggs are needed for tall, soft layers with a nice structure. Cake flour because it's a cake, duuh. But also because cake flour is soft so it leaves the cake layers like pieces of heaven.
What I learned from reading recipes and watching videos about carrot cakes is the oiliness of the cake. People usually use cooking oil for this cake (and I used it as well). It can keep the cake nicely moist. Sometimes you can feel that the cake is too oily. And we don't like it. That's why I used less oil and added full-fat plain yogurt (for extra fat as we decreased the amount of oil) and low-fat curd cheese (because we don't want the cake to be too heavy). Yogurt and curd cheese can add creaminess and moisture. And we love these two together. 🙂
Regular white crystal sugar is great for cakes but I like mixing it with brown sugar for the caramel undertones it offers. Talking about undertones, we cannot forget THE SPICES. I love spices. Cinnamon, cardamom, nutmeg, and if you feel a little naughty, add ginger powder. Or freshly grated ginger. These spices can rock your cake, give it a "bad weather" taste (like "it's raining outside and you cannot go out so you bake a cinnamon cake and watch a movie" vibes, yeah?).
And the last one – carrots. Listen, they cannot stop you from grating and peeling carrots. Feel free to add more than I recommend for this recipe. Add some on top of the cake as well. Life is too short, yolo.
Are you looking for a main course?
Vegan Meatballs
If you are a vegan or vegetarian, and you are looking for a lunch/dinner recipe – this one can be yours. Vegan meatballs from chickpeas and soy granules are full of protein.
Check out this recipe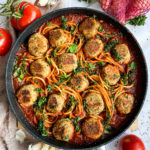 Sticky Sesame Chicken With Honey Sauce
For all the meat lovers. I have the "better than a takeaway" recipe for you. Famous sticky sesame chicken with honey sauce. Easy, simple and delicious.
Check out this recipe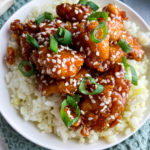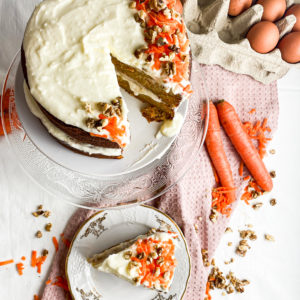 Carrot Cake With Mascarpone Cream
Soft cake recipe with carrot and light mascarpone cream that makes you obsessed.
Ingredients
400 g carrots peeled and grated
310 g cake flour
2 tsps baking powder
1 tsp baking soda
1 ½ tsp cinnamon
1 tsp ginger powder
1 tsp nutmeg
1 tsp cardamom powder
150 ml plain fat yogurt
190 ml vegetable oil
200 g low-fat curd cheese
150 g crystal sugar
150 g brown sugar
½ tbsp vanilla extract
4 eggs room temperature
Mascarpone cream
200 g mascarpone
240 g icing sugar
1 tsp vanilla extract
60 ml heavy whipping cream
Instructions
Heat the oven to 180° C. Grease two smaller cake pans (mine were 12 cm diameter). I attached the baking paper to the bottom of each pan. It's easier to manipulate with the cakes later.

Peel and grate the carrots. You can prepare a few extra carrots on top of the cake.

Into one bowl add eggs, curd cheese, plain yogurt, oil, and mix until well combined. I used an egg whisker for this step.

Then add brown and crystal sugar – mix again. Add flour, baking soda, baking powder, cinnamon, cardamom, nutmeg and ginger powder. Combine until the flour disappears.

Throw peeled and grated carrots into the mixture and stir in with a rubber spatula.

Divide the batter into two parts. Pour into two cake pans and bake for 40-45 minutes. Let them completely cool in the cake pans and then remove them from the pans.
Mascarpone cream
Cream your mascarpone in a bowl with an electric mixer. Once the mascarpone is creamy, add icing sugar and mix at high speed until the cream is smooth. (I like sugar lumps so I left a few of them in the cream, why not?)

in the other bowl whip the heavy whipping cream. Once it's thick, move the cream into the bowl with mascarpone and gently stir in with a rubber spatula.
Carrot cake – finishing
You can make more layers of the carrot cake but I recommend not cutting the cakes into more layers. The cake gets moist so more layers could ruin your cake after a few hours.

When both cakes are completely cool, frost the top of one cake layer with mascarpone cream, and place the other cake layer on top. Add a generous amount of mascarpone cream on top. You can also sprinkle extra grated carrots and nuts on top.

Let the cake cool in the fridge for at least 3 hours. It gets moist, soft, and will be easier to cut a piece.
Notes
use cake flour for softer cake layers
peel and grate the carrots in advance, it's a real time saver 
let the cake layers cool completely – I was in the rush and my cake layers were still quite warm, so the cream started to melt after a few minutes of taking  pictures (not cute but still yummy)
you can add nuts into the recipe but remember to cover them in the flour so they don't sink on the bottom of the cake pan
you can use a normal cake size pan and frost the top very generously 
I think this cake would be also cute with a rum aroma or a real rum so feel free to try it