Valentine's Series: Punch Heart Cake With Rum is a classy cake full of rum, sweet fruit syrup, and soft layers of cake. The sugary taste is very intense thanks to the sugar glaze made from fruit syrup and icing sugar. Punch cake is very popular in Slovakia. It's a go-to cake for weddings, celebrations, or birthday parties. So why wouldn't you want to rock your bae's heart with a rum cake?
PUNCH CAKE OBSESSION IN SLOVAKIA
People in Slovakia LOVE cakes with a few drops of alcohol. For example rum balls, cherry pralines, Opitý Izidor (Drunk Izidor), Opité venčenky (another drunk dessert), and more. We usually bake with rum, vodka, alcoholic eggnog, or with the bottled aromas of these alcohols.
Punch cake, originally named punčový rez (punch slices), is one of the most popular cakes in Slovakia. It comes from the Soviet Union era so I guess other post-Soviet countries, or other countries where people from the Soviet Union moved to, have some type of "punch cake" as part of their "dessert culture".
Slovak's grocery stores sell this cake in plastic packages. You can get a long punch cake (what it originally looks like) for a good price, bring it to any friends/family celebration and people will get excited. I think you cannot go wrong with this type of cake.
So I came up with this idea. Influenced by Slovak punch slices, bring you a Punch Heart Cake With Rum. It's an ideal Valentine's dessert for your loved ones. If you don't drink alcohol – feel free to use more liquids (for example more syrup) instead of rum to give this cake enough moisture.
Are you looking for a different dessert? Here are some ideas:
Meringue Roulade With Nutella
If you are looking for another Valentine's cake, this roulade can be the one. Crispy on the outside, creamy on the inside. Check out the recipe and see if you are down for the chocolate sin.
Check out this recipe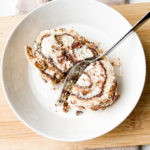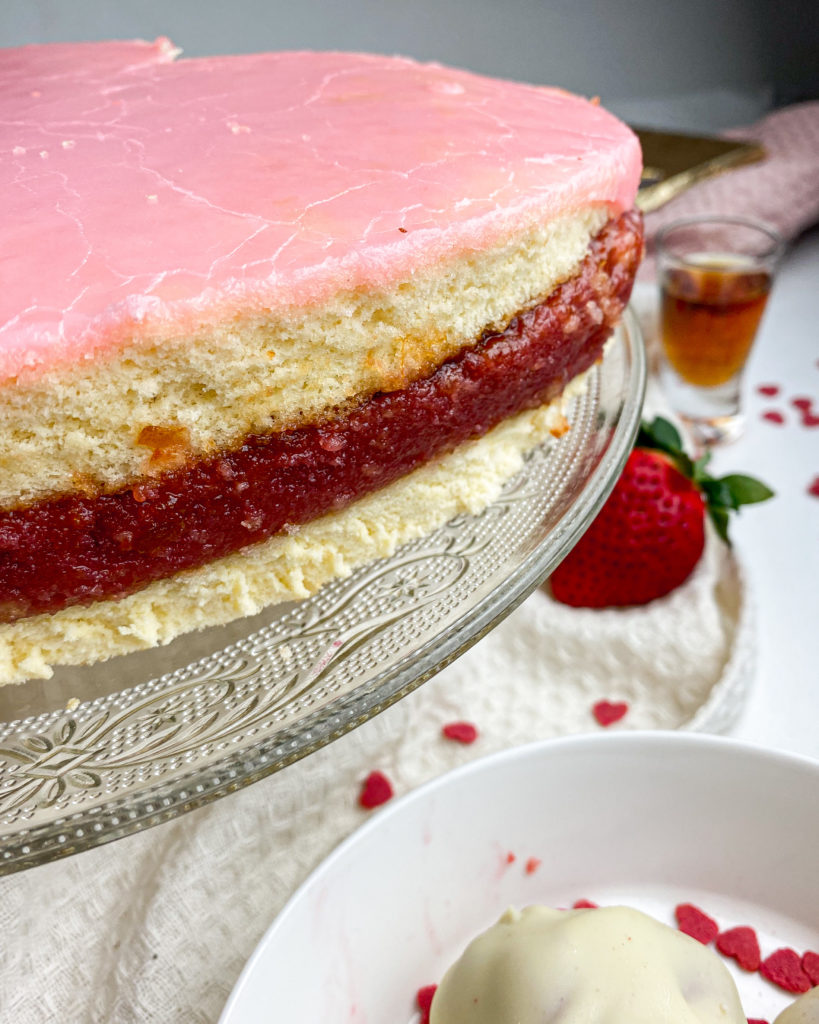 the anatomy of the punch cake with rum
Punch cake is made out of 3 cake layers. You make two thin cake layers and one thick. Once they are cool, you take the thick one and tear it into small pieces. Now it's the fun part when you get dirty. Roll up your sleeves, wash your hands because we are about to attack the cake.
Transform all small pieces into one bowl. Pour the red fruit syrup (for example strawberry syrup, cherry syrup, or berry syrup) all over the pieces. This step is crucial – we are now making the middle part of the cake (look at the picture above). You want this part to be as red as possible and this syrup should help us to give the sweetness and red color we want. Start mashing the pieces soaked in syrup with your hands. Add rum and mash again.
Now it's time to add jam. You can use whatever jam you want but I recommend using less flavorful and cheaper jam (for example strawberry jam, peach jam, apricot jam). This jam will add more sweetness and thick consistency to keep the pieces together. The taste of it will be neutralized because of the syrup and rum.
Mash again. You can add a bigger amount of these ingredients as it is totally up to you. Taste it and you'll see. If the color of the thick mixture isn't red enough, add red food coloring or use a more natural way – water from frozen fruits.
For the frozen fruits: get the frozen forest fruits into a pot. Boil the fruits on medium heat. After 10-15 minutes you should get soft pieces of fruit swimming in the intense red water. Use a few spoons of this water for the mashed mixture. Add as much as you need to reach your ideal color.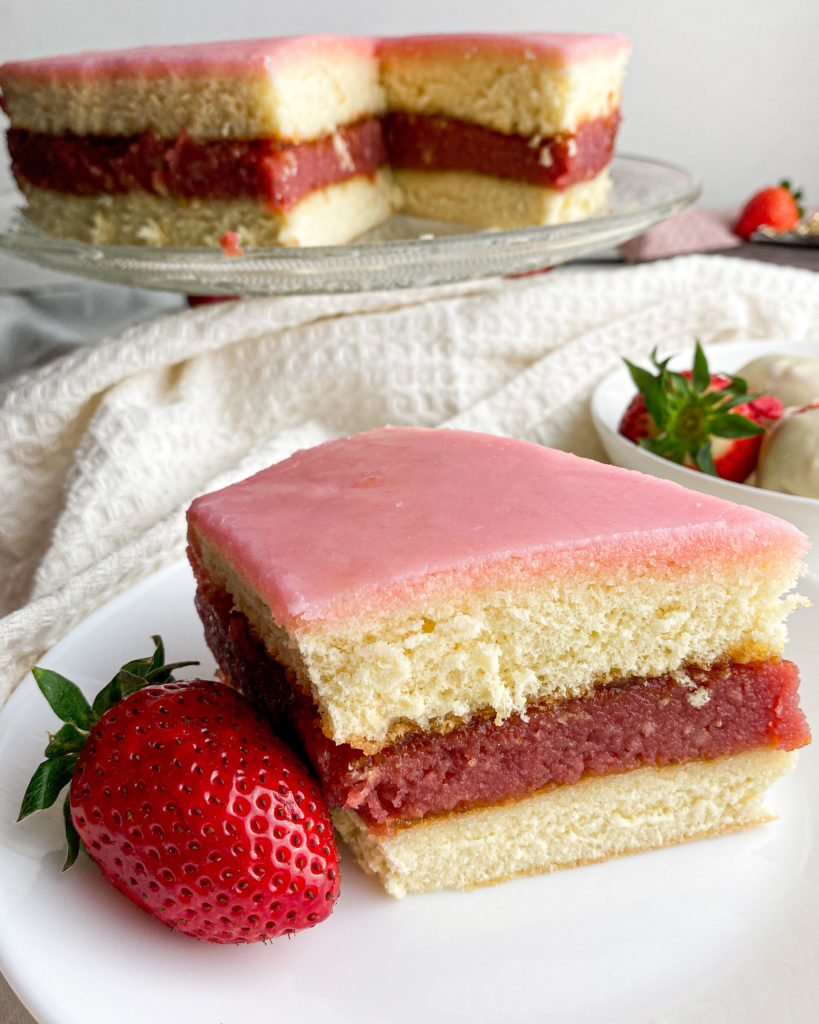 simple, delicious and sweet – right to your heart
Once the cake is done and refrigerated, cut it into the shape of a heart. The best hack on how to cut the cake is to fill up a tall heat-proof glass with boiled water. Get your knife in and let it get warm. After a minute or two, you can cut the cake without any cracking.
At this point, you will end up with a few extra pieces of unused cake. I made the Punch Balls from these pieces. I just mashed them in one bowl and made little balls. Cover them in melted white chocolate and let them chill in the fridge. Or you can just make these Punch Balls. A recipe is HERE on my Instagram. 🙂
if you decide to try this very VERY simple recipe, let me know on Instagram or Tiktok. I would love to hear from you!
And here is what they look like: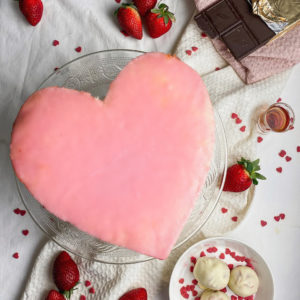 Valentine's Punch Heart Cake
A perfect recipe for Valentine's Day. If you are looking for a cake full of rum and sweetness – I got you. A traditional Slovak cake cut into a shape of heart for your loved one.
Ingredients
11 eggs
330 g white crystal sugar
330 g cake flour
330 ml red fruit syrup the one you can use for the cocktails
200 g fruit jam plus extra for spreading the cake
1 handful frozen forest fruit to make a cake layer red, you can also use red food coloring
20 ml rum optional
½ tsp red food coloring
240 g icing sugar
50 ml boiling water
Instructions
Heat the oven to 180°C. Grease the cake pan. Attach the baking paper to the bottom for better manipulation later.

We will need 3 cake layers. Start by mixing ingredients for the first cake layer. Whisk together 3 eggs, 90 g white crystal sugar, and 90 g cake flour. Bake for 10 minutes.

Repeat the process one more time with another cake layer.

Now for the third cake layer. This layer will be thicker so you will mix 5 eggs, 150 g white crystal sugar, and 150 g cake flour. Bake for 14 minutes.

Once the cake layers are cool, take the thickest one and cut it into smaller pieces by knife. Put the pieces into a bowl and add rum and fruit syrup. Mash the wet cake layer in your hands until it's very soggy.

Now the next step is optional – you need this wet cake mixture to be pink/red enough. You can use more red fruit syrup, add red food coloring, or boil the frozen forest fruit. Then you can use the red water from the boiled fruit to color your cake. It's up to you.

Now you have 2 perfect cake layers and one wet red cake mash. Put one of the clean layers into the cake pan, and spread a thin layer of extra jam on top. Continue by adding wet red cake mash. Smoothen the cake with a rubber spatula. Put another cake layer on top.

Now you should have a solid-looking cake. Now the fun part – you have to weigh the cake down by putting something heavy on top. I usually use a big pot with a little bit of water in it, that perfectly sits on the cake. Now put the cake into the fridge for 30-40 minutes.

Now let's make the glaze. Pour the icing sugar into the bowl. Whisk the icing sugar by using an egg whisker, and slowly pour the boiling water into the bowl. The consistency should be thick as the American pancake batter. If it's too runny – use more sugar. If it's too thick – add more boiling water. Use a few drops of red food coloring or the red water from the forest fruit. You want to reach the perfect pastel pink color.

Put the cake into the fridge overnight. After this time it should get really moist, juicy and the taste of rum will hit you in the morning.

Cut the cake into the shape of a heart by using boiling water and a knife. Put the knife into the tall glass with boiling water so the glaze won't crack while cutting the cake.
Notes
take your time to make this fantastic cake, move slowly, and go step by step
red food coloring – you can use a cheap one for this cake, the goal is to get the "wet mashed cake layer" red enough, and the glaze just to be pink 
the amount of red food coloring – until you reach your desired color
weigh down the cake – you can use whatever you want to, a bag of rice, a package of milk – just be careful, so it won't be too heavy to leave marks on the cake or push the rum part out of the cake