Zucchini Cake With Mascarpone Frosting is a perfect tray cake that everyone can have a piece of. It's giving autumn vibes, cinnamon, nuts, but still fresh summer zucchini. I call it a perfect late august recipe. The right time when you cannot wait for pumpkin spice cakes and coffees. So zucchini cake with a sweet mascarpone frosting it is.
video recipe for Zucchini Cake With Mascarpone Frosting
Ingredients:
320 g flour
3 tsps baking powder
a pinch of salt
1 ½ tsp cinnamon
1 tsp nutmeg
⅓ tsp ginger powder
360 g brown sugar
2 tsps vanilla extract
a handful of chopped walnuts
2 medium-sized zucchini
240 ml oil
3 eggs room temp
Mascarpone frosting
500 g mascarpone cheese room temp
5 tbsps icing sugar
1 tbsp vanilla sugar
Strawberry Pound Cake
Strawberry Pound Cake is a delicious and sweet dessert full of strawberries and lemon zest. If you are a fan of pound cakes, this one will get into your top 3 for sure. It's sweet and kinda sour. Sugar icing on top with chunks of strawberries. This pound cake is SO easy to make at home, so any home baker with "not so many" experiences can try to make this strawberry cake recipe.
Check out this recipe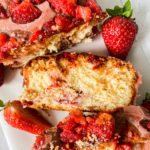 Zucchini cake is a quick dessert you usually go for in the late summer or early autumn days. It's quick – you can literally make this in 10 minutes and bake for another 30. My mum loves quick recipes, she calls them "Sunday afternoon desserts".
Because, let's be honest, who likes doing anything complicated on Sunday afternoon? Nobody. That's why the zucchini cake with mascarpone frosting is you go-to cake.
It's easy, simple to follow the recipe, and comforting. Cinnamon, nutmeg, walnuts, the smell. It has everything. And you can have it as well. In 1 hour!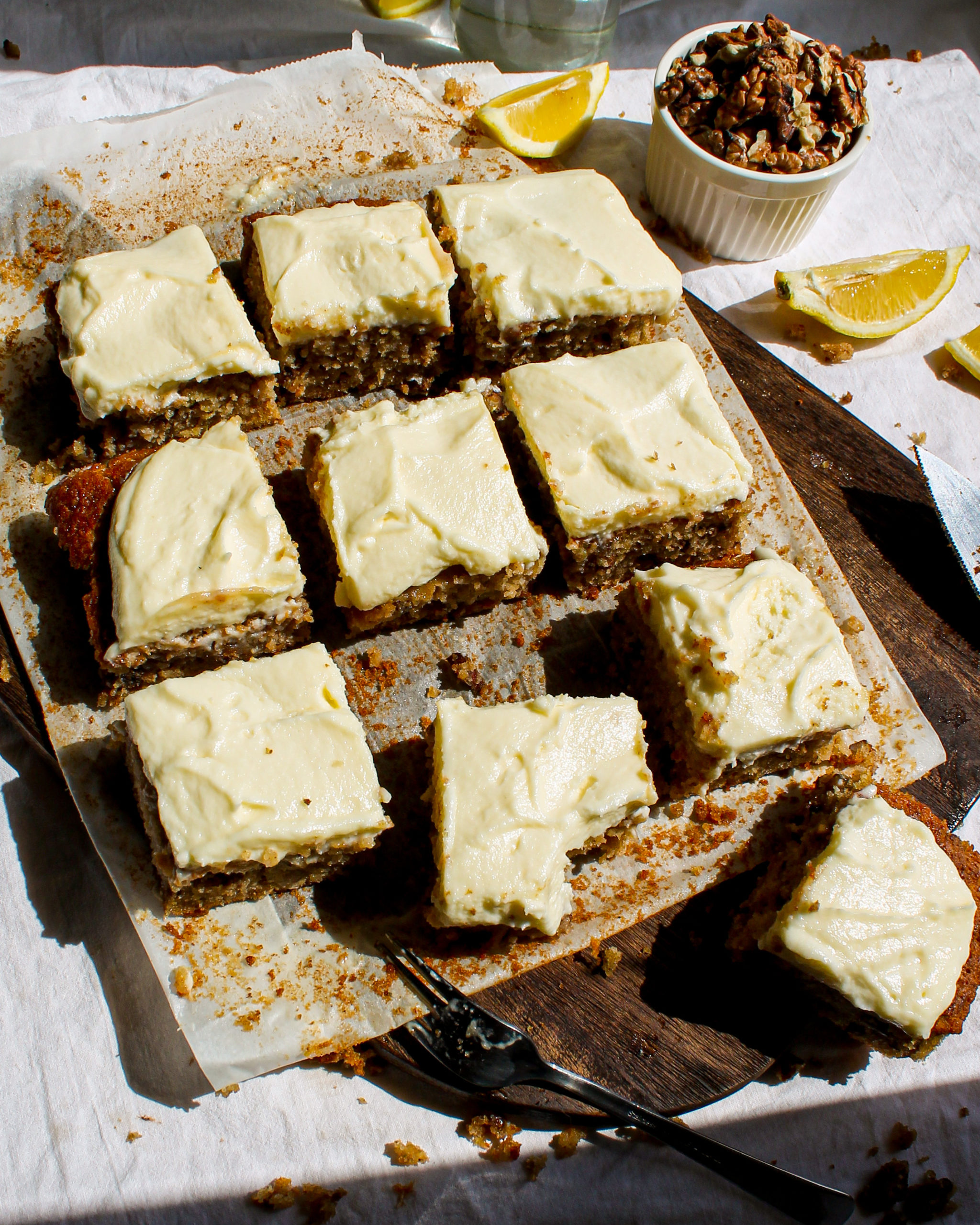 ZUCCHINI CAKE WITH FROSTING
We all love easy desserts under one hour. What we all love more than that, are tray cake recipes. I don't know, but there is something different about tray cakes.
everyone gets a piece under any circumstances
you can make a lot for many people in a short period of time
comforting (this is just my thing but I like when I use spices like cinnamon, you can taste it in a small bite)
no additional touches, no layering
the frosting is a chef's kiss
I've always been a big fan of carrot cakes. I discovered carrot cakes very late in life (in my twenties, lol). I also had a phase when I was obsessed with carrot cake and I had to make something that included carrots and the sweet white cream frosting. I remember the Carrot Cake I made a few months ago. I was new to blogging and food photography. It was melting everywhere, pictures were taken on my iPhone so the quality was also terrible. But the taste of this cake was unbelievable – so I had to put it on the blog.
I still recommend trying it.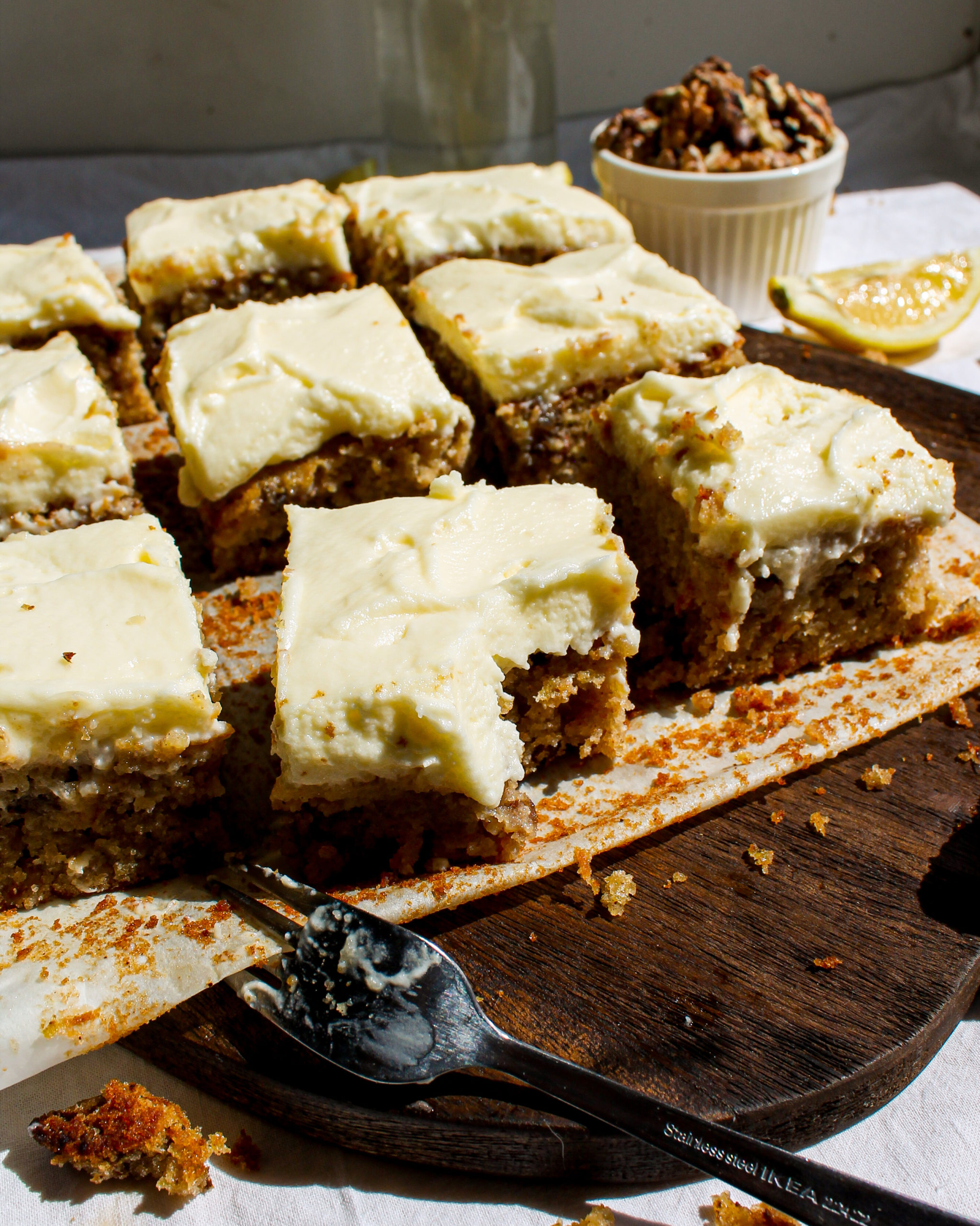 how to make zucchini cake with mascarpone frosting:
Preheat the oven to 180°C. Prepare a deep baking tray of 36 cm x 42 cm and baking paper.
Cut the ends of the zucchini and peel off the skin. Shred the zucchini (smaller pieces). Transform them into the bowl and add eggs, vanilla extract, sugar, and oil. Mix with an egg whisker.
In another bowl whisk together flour, baking powder, cinnamon, nutmeg, a pinch of salt, and ginger powder. Add these dry ingredients into the batter and whisk well. Do not over-mix! Whisk until the flour disappears.
In the end, add chopped walnuts and stir in with a rubber spatula.
Pour the mixture into a baking tray and bake for 35-40 minutes or until the toothpick comes out clean. Take the cake out of the oven and let cool completely.
When the cake is cool, whisk mascarpone until creamy. Then add icing sugar and vanilla extract. Spread the frosting over the cool cake and put it into the fridge for the best experience. (or eat know, who cares?)
ARE YOU LOOKING FOR MORE TRAY (FLAT) DESSERTS?
Chocolate Cake With Pudding And Sour Cream
Chocolate Cake With Pudding And Sour Cream is a soft, tasty, and cold dessert for summer days. Greatly balanced with a taste of sour cream and shredded chocolate. This is my family's go-to cake when there is any celebration in our family during the summer. You have to keep it in the fridge for a more refreshing experience.
Check out this recipe
Rhubarb Sponge Cake
Rhubarb Sponge Cake is a soft and delicious cake sprinkled with icing sugar. The recipe is so easy and all you need is a mug and a tablespoon. No measurements are needed. Try this ridiculously easy summer dessert, and find out why buying a rhubarb, when it's its season, is worth all the money!
Check out this recipe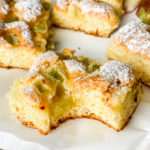 Fudgy Brownies With Salted Peanuts
Fudgy Brownies With Salted Peanuts are full of chocolate and salted flavor. This recipe is SO simple. The only special ingredient is salted peanuts and you don't even need a mixer! These brownies are to die for and can be made in 50 minutes (baking included). So, are you ready to try a piece of heaven?
Check out this recipe
my tips for the best Zucchini Cake With Mascarpone Frosting:
room temperature mascarpone – you need to cream the mascarpone and that's only possible with a room temperature mascarpone. Or you can heat it in the microwave.
chop the walnuts and leave a few bigger pieces
use deep baking tray
use 3 small zucchinis or 2 medium zucchinis
do not over-mix the mixture, whisk until the flour disappears
If you decide to make Zucchini Cake With Mascarpone Frosting at home, let me know on Instagram or Tiktok. Tag me, send me pics, or just slide into my DMs. ❤️ It means the world to me when I hear from you. Thank you for your support.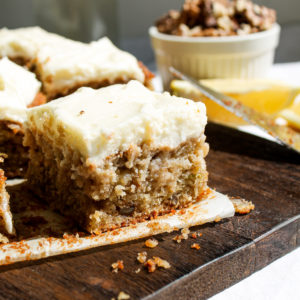 Zucchini Cake With Mascarpone Frosting
An easy recipe for Zucchini Cake With Mascarpone Frosting.
Ingredients
320 g flour
3 tsps baking powder
a pinch of salt
1 ½ tsp cinnamon
1 tsp nutmeg
⅓ tsp ginger powder
360 g brown sugar
2 tsps vanilla extract
a handful of chopped walnuts
2 medium-sized zucchini
240 ml oil
3 eggs room temp
Mascarpone frosting
500 g mascarpone cheese room temp
5 tbsps icing sugar
1 tbsp vanilla sugar
Instructions
Preheat the oven to 180°C. Prepare a deep baking tray of 36 cm x 42 cm and baking paper.

Cut the ends of the zucchini and peel off the skin. Shred the zucchini (smaller pieces). Transform them into the bowl and add eggs, vanilla extract, sugar, and oil. Mix with an egg whisker.

In another bowl whisk together flour, baking powder, cinnamon, nutmeg, a pinch of salt, and ginger powder. Add these dry ingredients into the batter and whisk well. Do not over-mix! Whisk until the flour disappears.

In the end, add chopped walnuts and stir in with a rubber spatula.

Pour the mixture into a baking tray and bake for 35-40 minutes or until the toothpick comes out clean. Take the cake out of the oven and let cool completely.

When the cake is cool, whisk mascarpone until creamy. Then add icing sugar and vanilla extract. Spread the frosting over the cool cake and put it into the fridge for the best experience. (or eat know, who cares?)