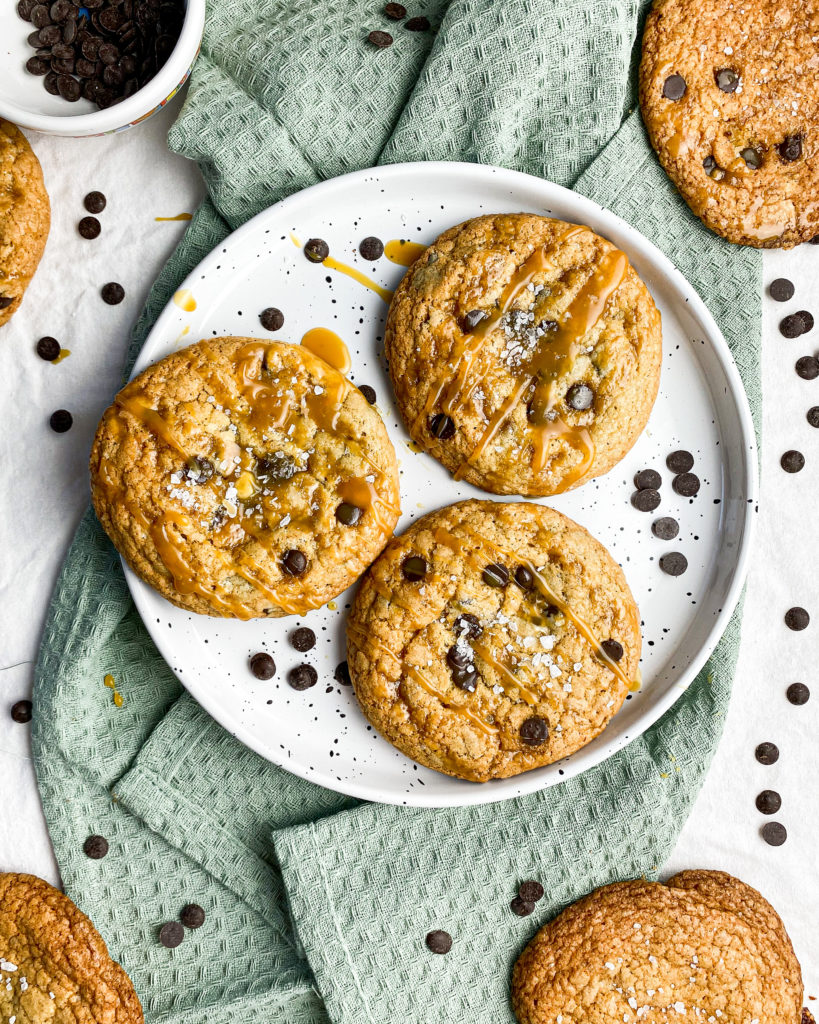 Sea salt cookies with salted caramel are crunchy, salty but also full of chocolate flavor. I am not going to lie – I love cookies. I love chunky cookies that are melting in my mouth. I adore cookies filled with a chocolate egg or basic flat chocolate chip cookies (now I do!). That's why I decided to come up with a basic recipe for basic flat chocolate chip cookies but with a hint of salted caramel. And sea salt, of course, because we love this aesthetic shhhhht.
flat cookies – yay or nay?
I'm going to be honest, I wasn't always a fan of flat cookies. They were crunchy, very basic, no wow effect. Or maybe I've just never tried good quality cookies. This recipe failed me a few times. Okay, more than 3. As well as my salted caramel recipe. Then I've done my research and here we are. I have these delicious sea salt cookies with salted caramel. With a wow effect, I promise.
Salted caramel dilema
This is another thing. If you are scared of making caramel, we can be friends. At this point, we are besties who are scared of ridiculously hot sugar that can burn you badly. But I did it and you can too. Just be careful, have an empty place next to your stove with a wooden cutting board, because if something goes wrong, we just leave it on the cutting board and turn off the heat. This primitive hack saved my life and kitchen SO MANY times.
However, let's start with salted caramel.
The first thing to do is to dissolve the crystal sugar. Cook the sugar over medium heat and stir. Let the sugar dissolve but be careful and don't burn it. This step took me about 3-5 minutes.
When the sugar has this sticky caramel consistency, add butter and stir. Then let this magical mix cook over low-medium heat for another 8-10 minutes – but no stirring. It can bubble up and make weird noises but don't worry. After a few minutes, you should get this nice golden color and more runny caramel.
I know it can get scary when you cannot touch something you don't trust – me, same. You can still cook the caramel for sea salt cookies on low heat and stir a few times. But trust the process.
When the caramel is golden in color, turn off the heat and pour the double cream in (or whipping cream as they call it in some countries) very slowly. Now the caramel should be bubbly and make some noise. But that's fine. Do it slowly and whip the mixture with a large spoon. Now, the salted caramel should be runny with nice light brown color. All it needs is sea salt. I was generous and used a whole teaspoon of sea salt but some people use even more. I recommend using less and then adding more if needed. Let the salted caramel cool in the window.
And for the skeptic people out there – it is runny now, it gets thicker once it's colder. I stored mine in the fridge for a week and it was still delicious and eatable.
FOR SALTED CARAMEL YOU WILL NEED:
200 g crystal sugar
3 very very full tbsps unsalted butter
150 ml double cream
1 tsp sea salt
big girl/boy pants (optional but helps with the confidence)
IN CASE YOU ARE LOOKING FOR ANOTHER SWEET DESSERT
Lava Cake With Melting Chocolate
Sweet chocolate dessert made in 30 minutes. Eat the lava cake right from the ramekin covered with a generous amount of cocoa powder. Not your classic lava cake!
Check out this recipe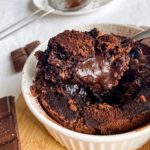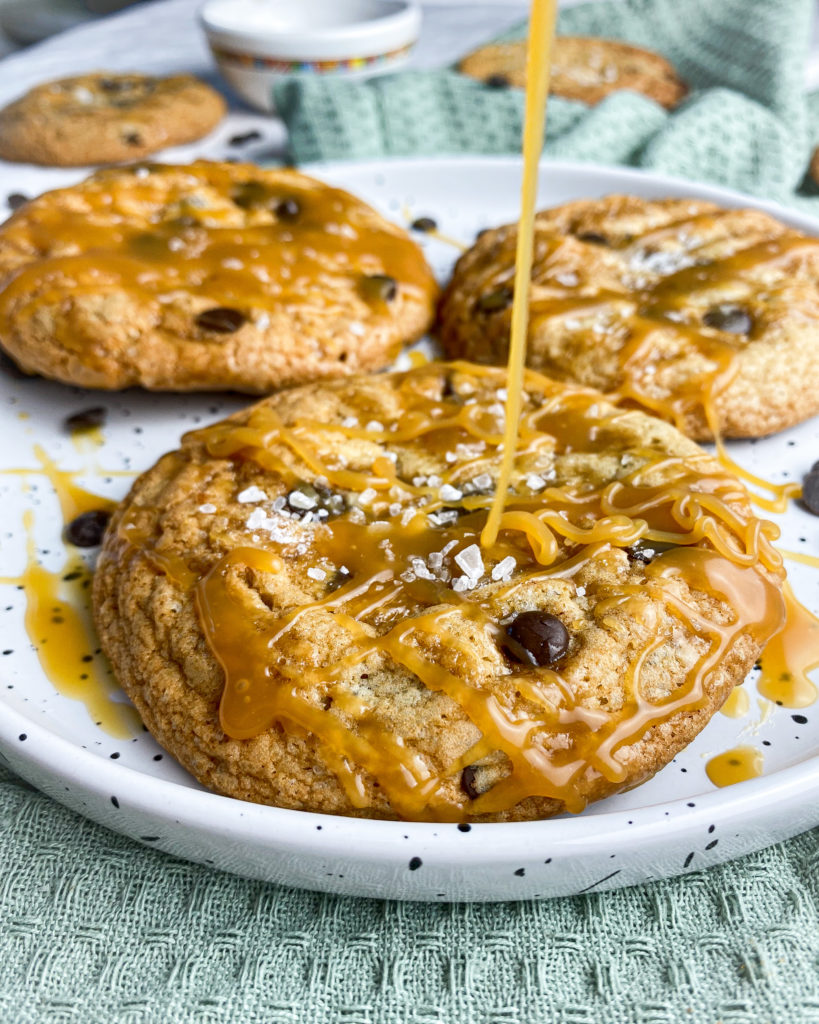 So here is a short recipe for Sea Salt Cookies With Salted Caramel:
220 g melted butter
350 g brown sugar
2 eggs
1/2 tsp rum aroma
for extra caramel: 8 tsbsp of salted caramel
370 g flour
1 tsp baking powder
1 tsp baking soda
300 g chocolate chips
bake at 180C for 8-10 minutes
Ingredients:
Melted butter
We start with the melted butter. Not hot, just warm butter. You can melt it in the microwave, on the stove, but keep in mind – it cannot boil or get hot. However, it can contain chunks of butter and be runny.
I started to use melted butter in chunky cookies because I loved the soft texture. In this case, sea salt cookies with salted caramel will still be flat but the inside will be nice and creamy. The second reason why I used melted butter is the "cake" texture of the cookie dough. It also nicely melts the brown sugar and complements the caramel flavor. Sea salt cookies with salted caramel on point.
I've tried a few cookies recipes using melted butter. You can find these recipes on my Instagram or TikTok.
Why 30 g cookies?
My tip for every cookies baker – for the first batch of cookies, use the biggest baking sheet you own. Put on 4 cookies of your desired size, far away from each other. Keep in mind that cookies will melt in the oven as well, especially if you don't put them in the freezer before baking or if you have sticky cookie dough, like this one. The cookie dough is sticky because we used melted butter – meaning, the temperature of the ingredients can change the consistency of cookie dough.
For this recipe, I used 30 g cookies which was half of the tablespoon of cookie dough.
Salted caramel in the batter
I tried many options for this recipe. I made sea salt cookies with salted caramel, using salted caramel only on the top of the cookie. But I also tried adding salted caramel into the batter. The biggest differences were the color and taste of the cookies. Using salted caramel during the whisking made them browner and more crunchy, like "caramel crunch" crunchy. Hopefully, it does make sense. To be honest, my mum LOVED them. If you are using caramel in the batter, bake the cookies for 6 -8 minutes. Again, it depends on your oven.
Tip: to be sure, bake one cookie for 6 minutes and let it cool on the baking sheet for another 5 minutes. This way you'll know if you like crunchy caramel cookies or softer cookies.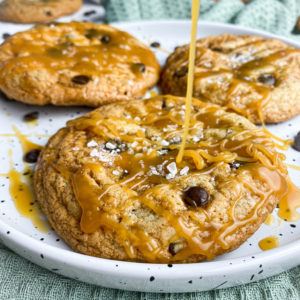 Sea Salt Cookies With Salted Caramel
An easy recipe for quick sea salt cookies with salted caramel. Adding salted caramel into the batter is optional.
Ingredients
220 g melted unsalted butter
350 g brown sugar
2 eggs
½ tsp rum aroma optional
8 tbsps salted caramel sauce optional / on top
370 g cake flour
1 tsp baking powder
1 tsp baking soda
300 g chocolate chips
Salted Caramel
200 g crystal sugar
3 tbsps butter
150 ml double cream
1 tsp sea salt
Instructions
Salted caramel
Dissolve crystal sugar in the pan on medium heat. Stir well for 3-4 minutes.

When your sugar becomes caramel, add butter and cook everything over low heat. You can stir the caramel a few times but let it cook. It can also bubbly up – so don't worry. Cook for 8-10 minutes.

The cooking time also depends on your stove, so when the caramel gets this nice golden color, remove the pan from the heat, pour the double cream in and whisk well. Again, it can make weird noises and bubbles, so be careful.

At this point, the caramel should have a wanted runny consistency and color. Add sea salt and let the salted caramel cool. It gets thicker.
Sea Salt Cookies
Melt the butter in the microwave or on the stove. Your butter should be runny, warm, not hot, and can contain chunks of soft butter.

Add brown sugar to the butter and whisk them together until creamy consistency.

Break the eggs into a bowl with a rum aroma. Pour them into the creamy mixture. If you want your cookies with extra caramel, add 8 tbsps of cold salted caramel. Mix well.

Add flour with baking soda and baking powder. Mix until the flour disappears.

Add chocolate chips. Put the cookie mixture into the fridge for at least 40 minutes. You can totally skip this step but your cookies will be flatter, if that's what you want.

Scoop the cookie dough on the baking paper and bake at 180°C for 8-10 minutes. I baked mine for 8 and then I let them cool on the baking sheet for extra 5 minutes. They are still baking even when they're out of the oven.

The crucial step is – to sprinkle some sea salt on top of them when you take them out of the oven!

You can add salted caramel while they're still hot but for nicer look, pour salted caramel on top of them once they're cool.
Notes
I baked 30 g cookies (1/2 tbsp) – they look small but they will get bigger in the oven – my tip is to use the biggest baking sheet you own and put 4 cookies the same size on it as far away as possible.  This way you'll see how big they get, and how many cookies you can put on next time. 
don't use hot butter, it can burn your cookies
use brown sugar for cookies so they have this nice caramel undertone, but you can also use crystal sugar
be careful with the salted caramel – this was my third try, so feel free to use a different recipe for salted caramel that works for you and your oven
you can use chocolate chips or whatever chopped chocolate you like – just keep in mind, use more chocolate for a nicer look as they get bigger