Miso butter toast is a delicious breakfast option. Salty spread with sweet touches of honey and maple syrup. What else do you need? Maybe chili flakes? No worries, we have everything.
VIDEO RECIPE FOR MISO BUTTER TOAST
This miso butter spread is soft, sweet, but also spicy and salty. Thanks to the red miso paste I used, mine got a little brownish (a beautiful color for this toast). This was my first time preparing a dish with miso paste. And I think I did well.
I knew what miso paste was, I knew social media have been really into miso soup lately and this trend is still going on. To be honest, I was a little nervous to experiment with this product as I've never tried it, never cooked with it, and it is not a part of my culture. Meaning – I didn't want to do something that is not really "ok" to do with an ingredient. Like baking spaghetti in the oven (not saying it's scandalous if you try it and like it, but the Internet is a dark place for boiling spaghetti in the oven). And you want to be friends with people, not food enemies. So I prepared a simple but delicious toast recipe.
But there is a first time for everything. So, miso butter toast it is.
You can check my other recipes that are also suitable for breakfast or as a main course. All recipes are simple and short. You cannot go wrong with any of them 🙂
WHAT IS THE MISO PASTE?
Imagine a thick and creamy paste. Miso is a traditional Japanese seasoning made by fermenting soybeans and koji. Miso pastes are fermented for a very, very long time, actually, we can talk about years of fermenting. Various kinds of miso paste are different in flavor, color, and how long they had been fermented before using them.
I saw yellow miso paste. I think this one was the most used in the videos I have seen so far. People used this paste for dips, soups, and (in my opinion) in meals where miso only compliments other flavors. I love that people buy these huge containers of miso paste, and use full tablespoons of the paste for their meals. Miso is not so popular in Slovakia so you can rarely see people buying these pastes or using them.
I read that there is also white miso paste. It doesn't contain that many soybeans so it's light and sweeter. White miso paste is popular for salad dressings, dips, and recipes with the light taste of miso.
And the last one I know about is the red miso paste. Fermented for the longest amount of time, intense dark red color, and very salty. This paste is very rich in flavor, so it also means you need to be careful while using it. The paste can take control over the flavors of your meal if you use too much red miso paste. And that's exactly the one I got, haha.
MISO BUTTER TOAST WITH FRIED EGG BECAUSE..
The main reason was the simplicity. I wanted to make something simple so people can try and taste the flavor of red miso paste. I also wanted to add a fried egg on top of the toast so it can nicely balance and neutralize the saltiness of the dark paste. Again, this was my first time using the paste so I did not want to go crazy and make a complicated dish that I could eventually fu…. up.
The main ingredients were butter and miso paste. I wanted it to have this nice kick of something sweet because I love mixing sweet and salty ingredients. That's what mango habanero sauce taught me. So blame the sauce, haha. I decided to use honey. Just to sweeten things up. To be fair, I usually use maple syrup because it contains more sugar, and I love the sweetness and more runny texture of the syrup. So I used the syrup too. I took a fork and started mixing. In the end, something was missing. I saw the last package of the chili flakes on my kitchen counter. Don't ask me.. I added a generous amount of chili flakes. And you know what? I don't regret it at all!
So here is a recipe for a nice, salty, sweet, spicy, and fat, miso butter toast with a fried egg on top. Let me know your favorite miso paste recipe I could try at home on my Instagram or TikTok. I would love to hear from you 🙂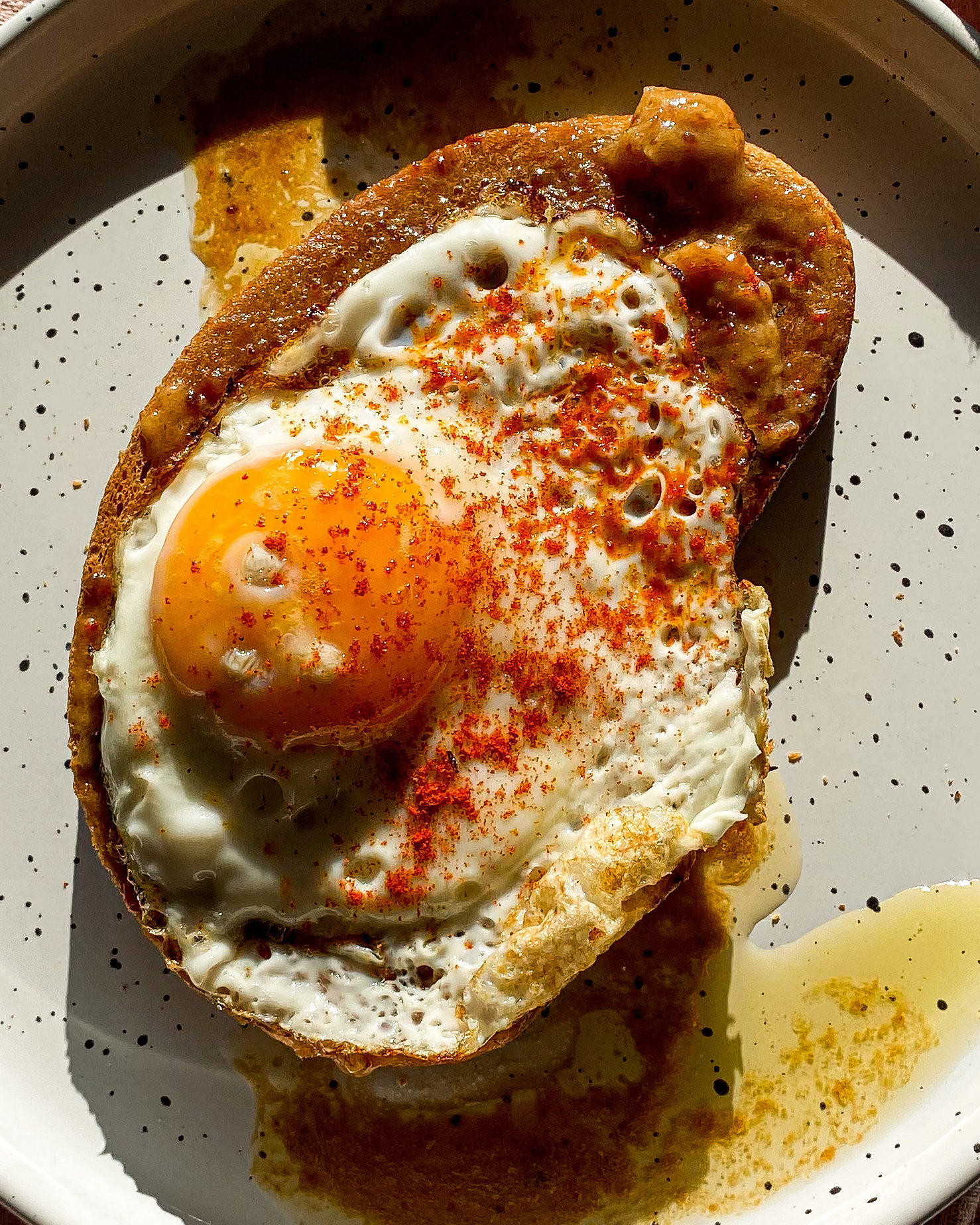 IN CASE YOU ARE LOOKING FOR A SWEET DESSERT
Kardashian's Olive Oil Cake
A delicious olive oil cake that Kardashian's sisters present as their favorite. I had to try it. And let me tell you – this was one of my favorite desserts I have ever baked at home.
Check out this recipe
Sea Salt Cookies With Salted Caramel
A basic flat cookie recipe for not-so-basic cookies. These cookies are blessed with salted caramel, sprinkled with sea salt, and served warm.
Check out this recipe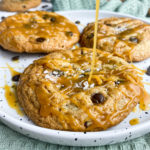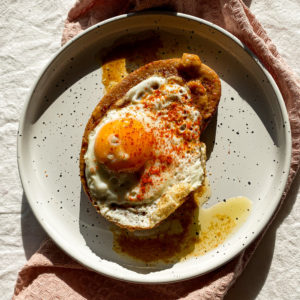 Miso butter toast
A very quick spread or dip made by miso paste. Used on toasted bread with a fried egg, sprinkled with paprika powder.
Ingredients
50 g soft butter You can use less butter, it depends on how salty you want your spread to be.
14 g red miso paste
5 g maple syrup
15 g honey
chili flakes
Instructions
Take your butter out of the fridge and leave it on the counter to make it soft.

When your butter becomes soft, mix it with a fork in one small bowl. Add miso paste and mix well until the mixture changes its color.

Add honey, maple syrup, and chili flakes. Mix well. Taste the spread and add more of the sweet ingredient or more miso paste. It depends on you how salty and sweet you want your spread to be.
Notes
I recommend tasting the spread to know what amount of ingredient you want to use, for example, I used more sweet ingredients (honey and maple syrup), to give the spread this nice balance
you can also use other miso pastes- in this case, you can use more of your favorite miso paste because the red one is very intense and salty
I wrote that this amount is great for 4 people, but it depends on how much of the spread you use on one toast and what else you add to your toast