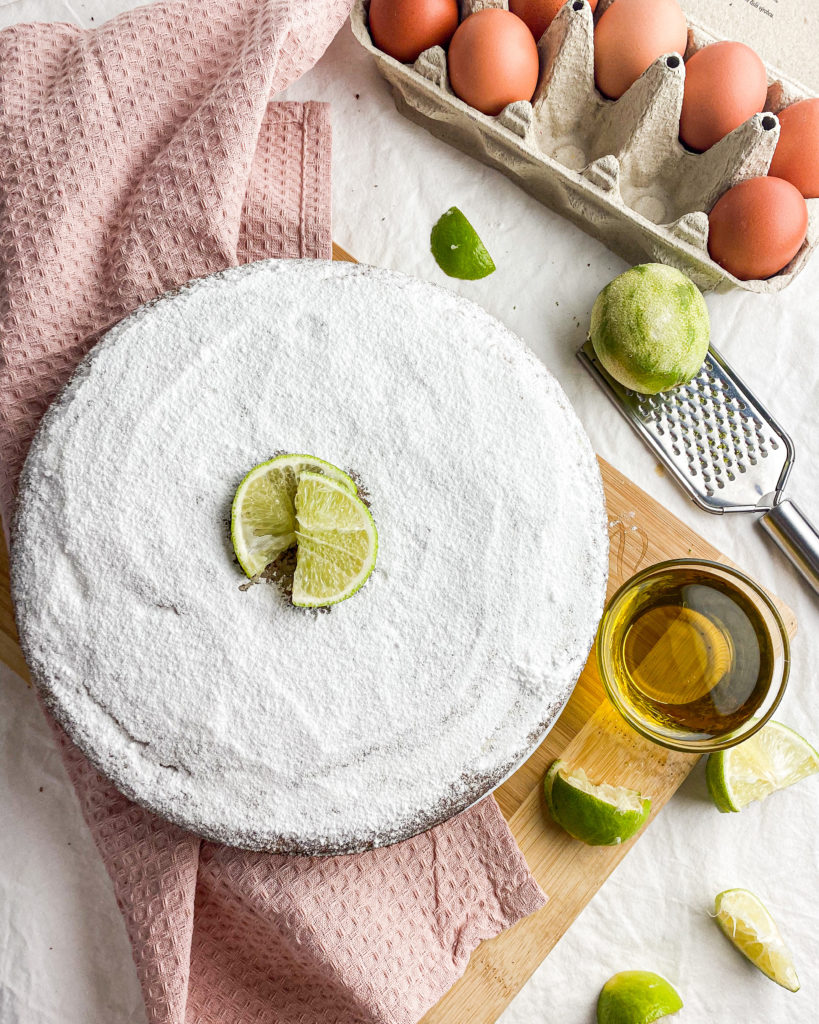 Olive oil cake with lime is an easy and popular cake thanks to the Kardashian's sisters. This cake is very simple and you don't need any extra ingredients. Except for the olive oil.
VIDEO RECIPE FOR OLIVE OIL CAKE WITH LIME
I saw this olive oil cake on TikTok. Firstly, I was very skeptical about the olive oil part as I use olive oil just for salads and simple dishes fried on the pan. But then I heard that people are OBSESSED with a cake that Kardashian's presented as their favorite. And to be honest, TikTok completely sold it to me. (Thank you very much.)
Here is a video recipe for my olive oil cake with lime 🙂 CLICK HERE,
Olive oil cake – Why olive oil tho?
I didn't understand why the olive oil part is so important. I mean, in Slovakia we don't really use olive oil in cakes as we prefer baking with unsalted butter or other cooking oils. However, I looked at a few websites because I wanted to know why people LOVE olive oil cakes. And then I found it – olive oil cakes are very popular in America in general. Italian restaurant chains in the USA have been baking cakes of this kind for years. I was just late for the party. And this party is absolutely hundred percent worth it.
Let's talk about benefits of olive oil for a second
In general, we know olive oil is pumped with vitamins and has a wide range of nutritional benefits. It has healthy fats, antioxidants, and all these good things we hear about in the doctor's office. I am not saying you can cure cancer by eating olive oil cakes (that would be nice), but it is good to know how good can this ingredient be for your body. In baking, we can substitute olive oil for other cooking oils or butter as well. In this case, olive oil does not dry the cake out. SO, in the future, you can use olive oil for baking as well.
IN CASE YOU ARE LOOKING FOR A SWEET AND SALTY DESSERT:
Sea Salt Cookies With Salted Caramel
In case you are looking for a sweet and salty dessert, here's one for you. Sea salt cookies are full of pieces of milk chocolate and salted caramel. A very easy and simple recipe, ideal cookie dessert for big cravings.
Check out this recipe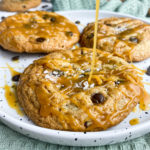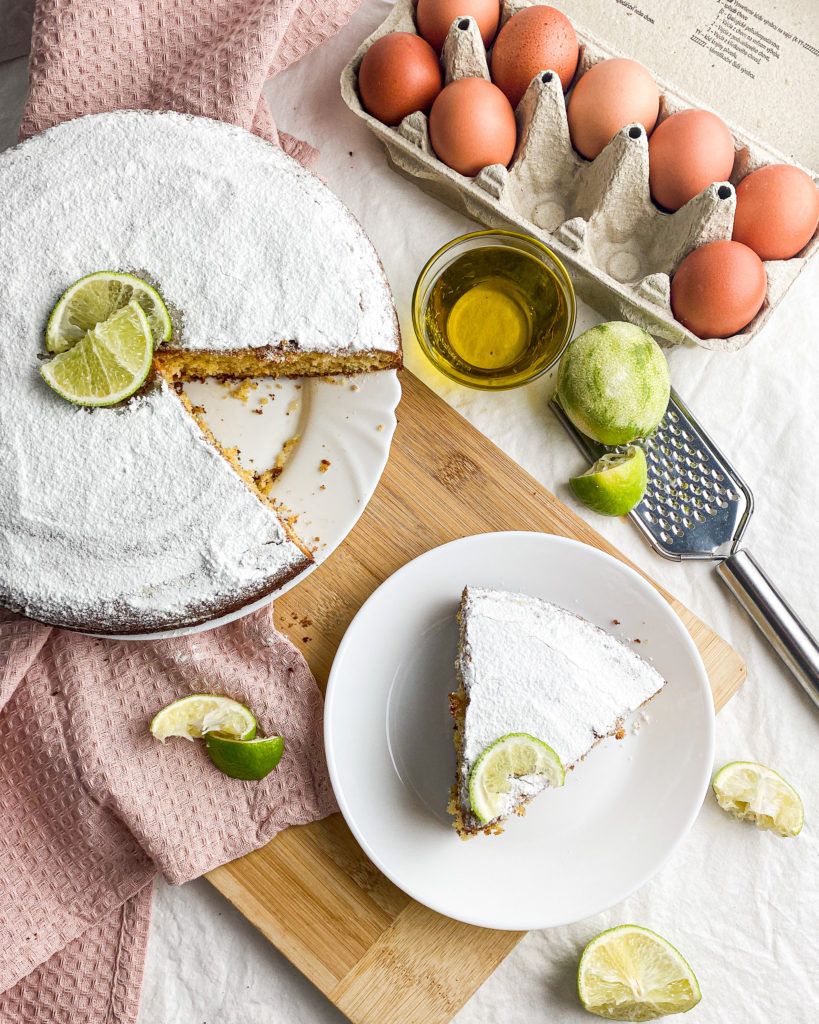 HERE'S A SHORT RECIPE FOR OLIVE OIL CAKE:
200 g white sugar
160 ml g olive oil
150 g low fat yogurt
2 tbsps full fat milk
240 g cake flour
2 tsp baking powder
1 tsp baking soda
2 eggs
1/3 tbsp vanilla extract
salt
1 tbsps lime zest
3 tbsps lemon juice / lime juice
mix the eggs and sugar till creamy and pale, for about 4 minutes
add low fat yogurt, olive oil, milk, vanilla extract, lime zest, and lime juice
mix
add cake flour, baking powder, baking soda
mix
sprinkle crystal sugar on top
bake at 180°C for 35-45 min
let it cool and sprinkle some icing sugar on top
You can find video recipe of this cake on my TikTok and Instagram 🙂
Ingredients:
I used low-fat yogurt because I love the creaminess it can bring to the cakes. I also missed a few grams of fat as I was baking with a 1:1:1:1 ratio (meaning 1 part sugar, 1 part fats, 1 part flour, 1 egg). The fats in my case were olive oil, low-fat yogurt, and milk. But here's the main issue – this was my first olive oil cake so I didn't know what to expect. The process of my thoughts was wild (as wild as thinking about baking cakes can be, lol).
There were a few things I was scared of: an unbaked cake, too dry, dense cake. The first issue could be easily fixed but the texture of the cake was my main focus. I wanted to have this nice soft cake with a touch of lime. It didn't take me long to find out that olive oil is GREAT for making flavors more intense (thumbs up, oil). But what about too dry or dense cake?
I tried to overcome this issue by using baking soda as well. This recipe includes acids – lime juice being one of them. The cake could be dense because a small amount of baking powder cannot lift the cake. It's known that baking soda combined with acids can make a fluffier texture. For the same reason, I used a full-fat milk.
To sum things up, the olive oil cake with lime wasn't dense at all 🙂 It's a perfect cake for small gatherings, evenings with family and friends, or just for yourself and a cup of tea. I will 10000% make this cake again and let my friends know that this is what they're missing on! And now I understand why Kardashian's are obsessed.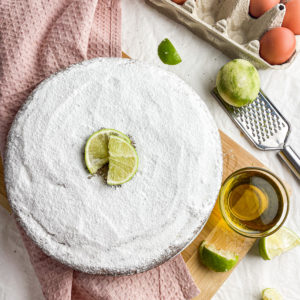 Olive oil cake
A soft olive oil cake with a flavor of lime and vanilla. Here's a simple and quick recipe for a famous "Kardashian olive oil cake".
Ingredients
200 g crystal sugar extra on top of the cake
160 ml olive oil
150 g low fat yogurt
2 tbsps fat milk high in fat
240 g cake flour
2 tsps baking powder
1 tsp baking soda
2 eggs
⅓ tbsp vanilla extract
a pinch of salt
1 tbsp lime zest
3 tbsps lime juice
icing sugar on top of the cake
Instructions
Heat the oven to 180°C. Oil a cake pan with olive oil and line the bottom with parchment paper.

Crack the room temperature eggs and mix them with the crystal sugar until creamy consistency and pale. Mix for about 3-4 minutes.

Add low-fat yogurt, olive oil, milk, vanilla extract, lime juice, and lime zest. Mix well.

In a bowl, whisk flour, baking powder, baking soda, and a pinch of salt. Add the dry ingredients into a bowl with wet. Whisk until just combined.

Pour the batter into the prepared pan and sprinkle the top with crystal sugar. Bake the cake for 35-45 minutes, until the cake tester comes out clean. Transfer the cake from the oven and let cool.

When the cake is completely cold, sprinkle the top with a generous amount of icing sugar.
Notes
for a more intense flavor of lime, you can use more lime juice and lime zest than I used for this recipe
I baked mine for 40 minutes but it depends on your oven, I recommend baking it for 38 minutes
I used a cake pan with a diameter of 20 cm, and the cake was tall enough