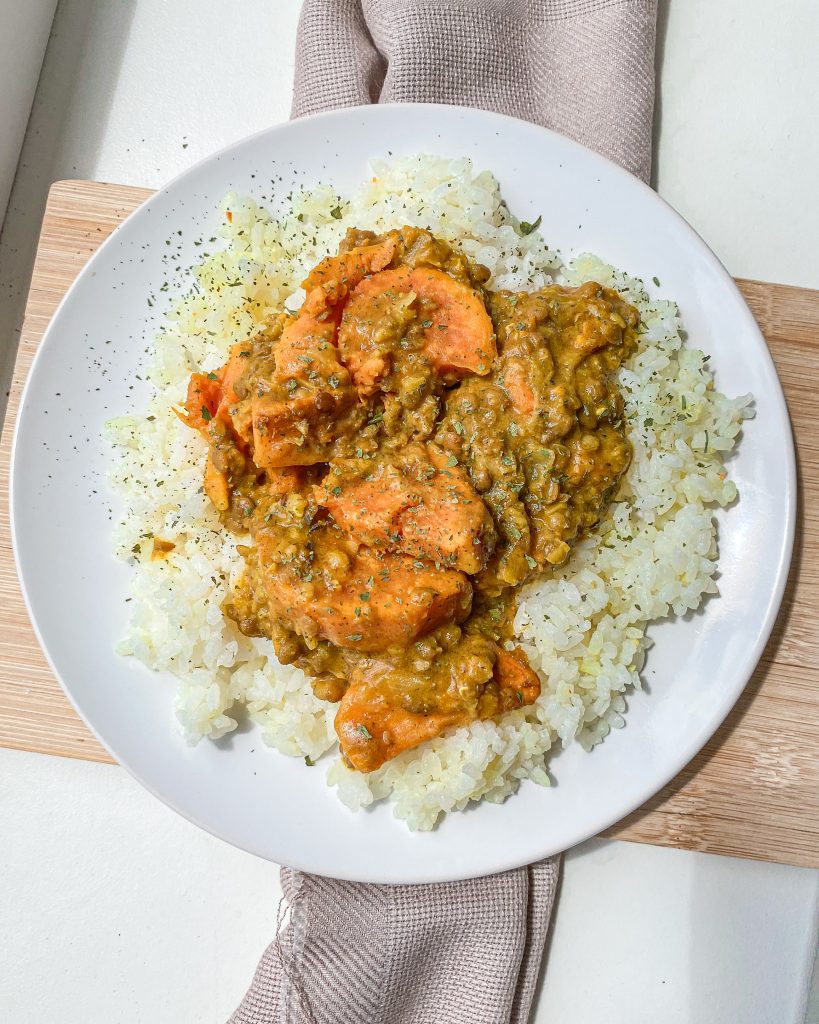 Good old curry recipe with sweet potatoes and lentils. This was my first go-to recipe when I wanted to show off how great a cook I was. Lentil curry as you know it.
iNGREDIENTS:
onion
garlic
seasoning: cumin, curry powder, turmeric, black pepper, salt, paprika powder, ginger powder
sweet potatoes
lentils
vegetable broth (or stock)
coconut milk
peanut butter (weird, I know)
For two portions you're good with 2 sweet potatoes and a can of lentils. Yup, I use canned lentils and I love them to death.
So let's get started
Sauté onion with garlic.
Then add seasonings: tsp 1/2 cumin, 1/2 tsp curry powder, 1/2 tsp turmeric, black pepper, salt ,1 tsp paprika , 1 tsp ginger powder.
Add cubes of sweet potatoes and lentils. Now add 1 cup of vegetable broth, 1 cup coconut milk and 1 tbsp peanut butter.
Cover the pot and cook everything until the potatoes are soft (15-20 minutes).
Let me know if you liked this recipe on my Instagram or TikTok. 🙂
SK: Starý dobrý recept na kari so sladkými zemiakmi a šošovicou
POSTUP
Podusíme cibuľu s cesnakom.
Potom pridáme dochucovadlá: lyžičku 1/2 kmínu, 1/2 lyžičky kari korenia, 1/2 lyžičky kurkumy, čierne korenie, soľ, 1 lyžičku papriky, 1 lyžičku zázvorového prášku.
Pridajte kocky sladkých zemiakov a šošovicu.
Teraz pridajte 1 šálku zeleninového vývaru (alebo bujon), 1 šálku kokosového mlieka a 1 lyžicu arašidového masla.
Hrniec prikryjeme a všetko varíme, kým zemiaky nie sú mäkké (15 – 20 minút).