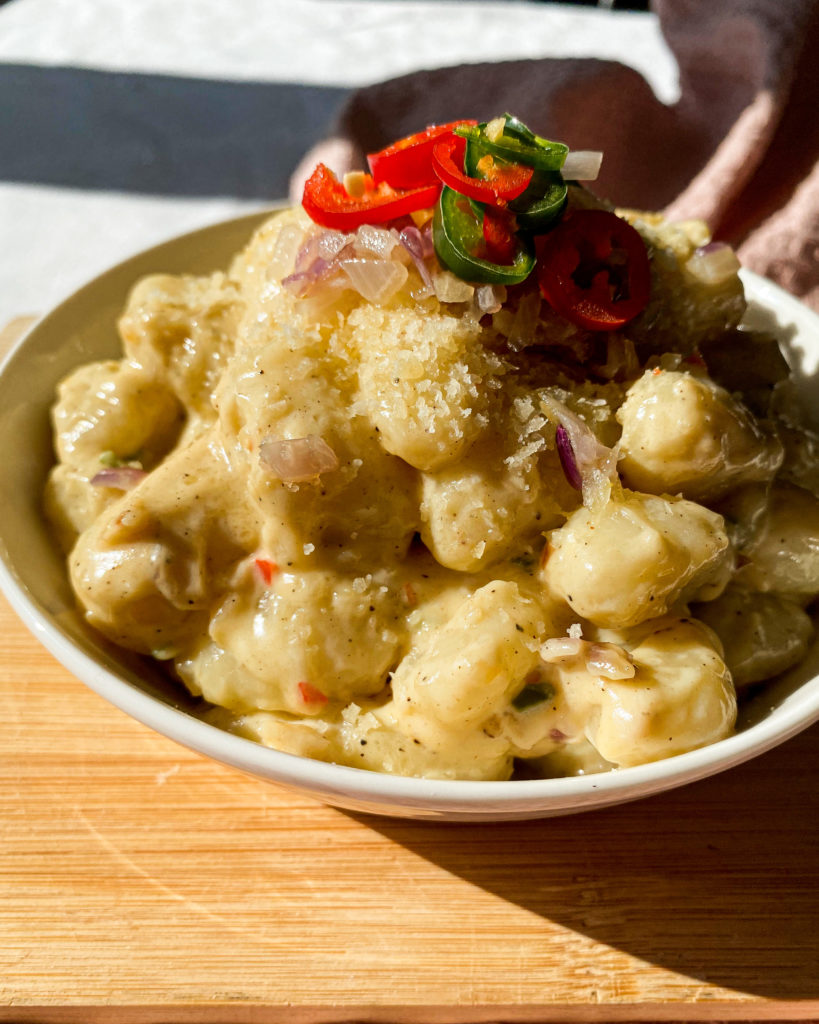 Easy and delicious dinner for two. Gnocchi With Chili Garlic Cream is a simple dish you can make at home. Full of parmesan cheese and mid-spicy chili base. An absolutely stunning fancy lunch or dinner can be ready in 30 minutes. And you need just a few ingredients!
WHAT IS GNOCCHI?
Italians would kill us for the way we pronounce gnocchi (well, most of us). Popular Italian pasta or dumplings (a few sources said it was both, so I will keep it that way) are made from flour and potatoes. Once you make these delicious soft dumplings, boil them in the water for 2-3 minutes. You end up with small potato dumplings, that you can bless with various sauces, or with frying on the pan.
There are so many ways how you can get the most out of any gnocchi recipe. Fried gnocchi, parmesan sauce, tomato sauce, squash gnocchi, or even blue cheese gnocchi. Stunning.
Why is gnocchi my go-to as a date food? I am not trying to idealize or romanticize Italian food (I kinda am), but gnocchi is great if you are not lactose intolerant! Small bites, cheese, no awkward food dropping on the clothes. And you can DEFINITELY enjoy this meal with a glass of wine!
What wine should you choose? My amateur tip: Soave wine from Verona. It's a dry white wine from Italy, that makes the chili cream sauce stand out. The sip of this wine will calm down the spiciness of chili peppers and garlic. But also splash down the flavor of cream with melted cheese.
Are you looking for any desserts?
Olive Oil Cake With Lime
Olive oil cake with lime is an easy and popular cake thanks to the Kardashian sisters. This cake is very simple and you don't need any extra ingredients. Except for the olive oil.
Check out this recipe
Meringue Roulade With Nutella And Nuts
Meringue roulade with Nutella and nuts can be your perfect romantic dessert. Crispy dessert on the outside, creamy mascarpone cream on the inside. With a touch of warm Nutella, it's literally a mouth-watering experience. And in case, you need a good quick romantic dessert – and just between us, girls and boys – this could be the one.
Check out this recipe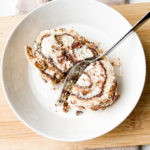 Ingredients:
500 g gnocchi
2 big onions
2 shallots
2 cloves chopped garlic
2 chopped chili pepper
40 g butter
250 g whipping cream
180 g parmesan cheese plus extra on top
1 tsp salt
½ tsp black pepper
I bought gnocchi in the supermarket. This was my first time preparing gnocchi at home and experimenting with the recipe. I wanted to mix the basic Aglio e Olio spaghetti recipe with parmesan cheese and smooth cream. I also like the caramelized onion base for garlicky meals. So I gave it a try and came out with this very easy recipe with chili peppers.
The original base is caramelized onions. You can leave them in the pan, but I like my cream sauce as smooth as possible – especially for potato dumplings. If you are a fan of onions, I recommend you leave them in the pan. Anyways, they give you the stable base for your chili cream sauce. Later, you can put them on top of the dish.
The sauce is made from melted butter, basic spices such as salt and black pepper. The spicy undertone is delivered by chopped garlic and chili peppers. Whipping cream and parmesan cheese are creating the white cream sauce. In the end, just let the sauce cook so the spices and different flavors get warm and start to compliment each other.
If you decide to make this simple recipe at home, send me a message on Instagram or leave a comment under the video on TikTok 🙂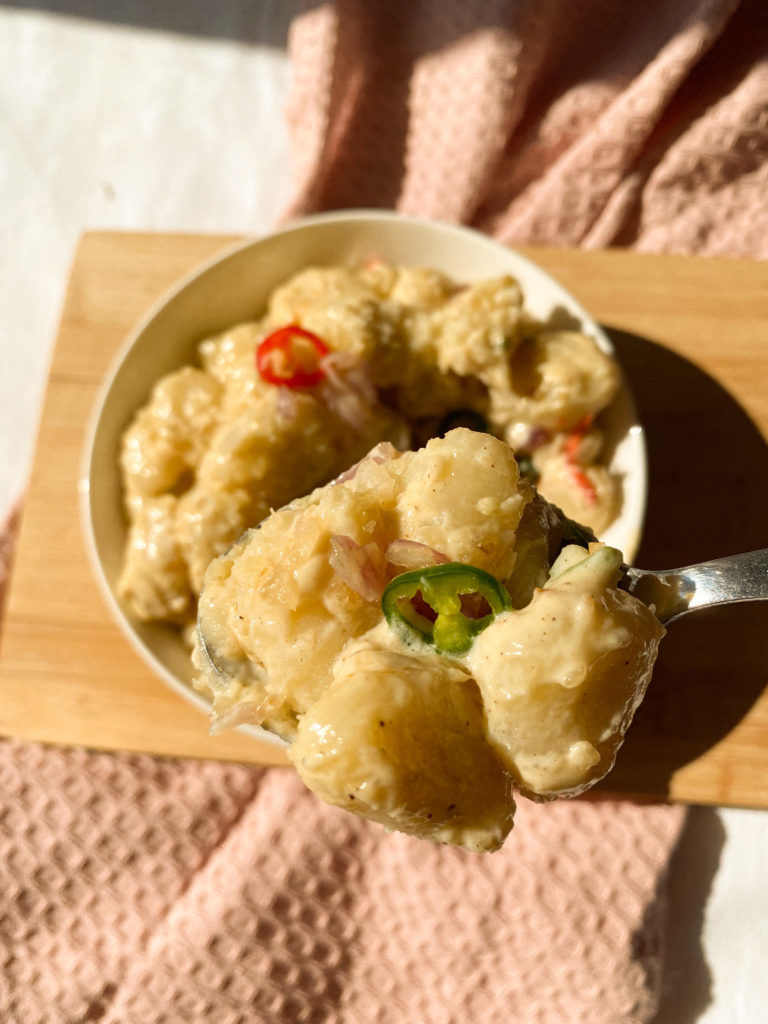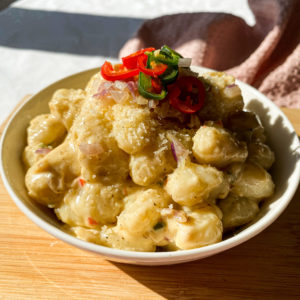 Gnocchi With Chili Garlic Cream Sauce
A very easy recipe for gnocchi sauce with chili and garlic. Freshly made on butter with parmesan.
Ingredients
500 g gnocchi
2 big onions
2 shallots
2 cloves chopped garlic
2 chopped chili pepper
40 g butter
250 g whipping cream
180 g parmesan cheese plus extra on top
1 tsp salt
½ tsp black pepper
Instructions
Buy gnocchi that is ready to be cooked in hot water, or make gnocchi on your own. Start with cooking gnocchi and putting them on the side.

For the sauce: cut onions and shallots into small cubes. Heat oil on the pan and once it's hot, throw onions and shallots on the pan. Caramelize the onions until they are juicy and brown. Then take them out of the hot pan. This makes the base for the chili sauce.

Put butter on the pan with chopped garlic and chopped chili peppers. Fry on the low heat for 2 minutes.

Now add salt and black pepper. Fry for 1 minute. Then pour the whipping cream into the pan and stir well. Let the whipping cream cook with chili and garlic for 2 minutes.

Add parmesan cheese and stir again. Let the cheese melt and once it's melted – add gnocchi.