Vegan chili with sour cream is my comforting food. I just love the texture of this chili. The amount of chili peppers – there are no limits. I love faking meat texture with mushrooms, it's just something I do for vegan meals a lot. And let me tell you, that meat lovers loved it too.
What INGREDIENTS do you need?
onion
garlic
chili pepper
seasonings: salt, cumin, black pepper, paprika powder, cayenne powder
mushrooms
yellow and red pepper
beans
tomato passata
sour cream
HERE'S HOW YOU CAN MAKE THE PERFECT VEGAN CHILI WITH SOUR CREAM
Sauté onion with garlic and chili pepper.
Now seasonings: salt, cumin, black pepper, paprika and cayenne powder. Let the seasonings marinate the onions.
After 3 minutes add neatly chopped mushrooms that can fake the texture of meat.
Veggies- I used yellow and red bell pepper, oil so mushrooms don't stick to the pan, beans, 1 cup vegetable broth and 1 cup tomato passata.
Cook for 15 minutes.
Let me know how you likes this recipe on my Instagram or TikTok.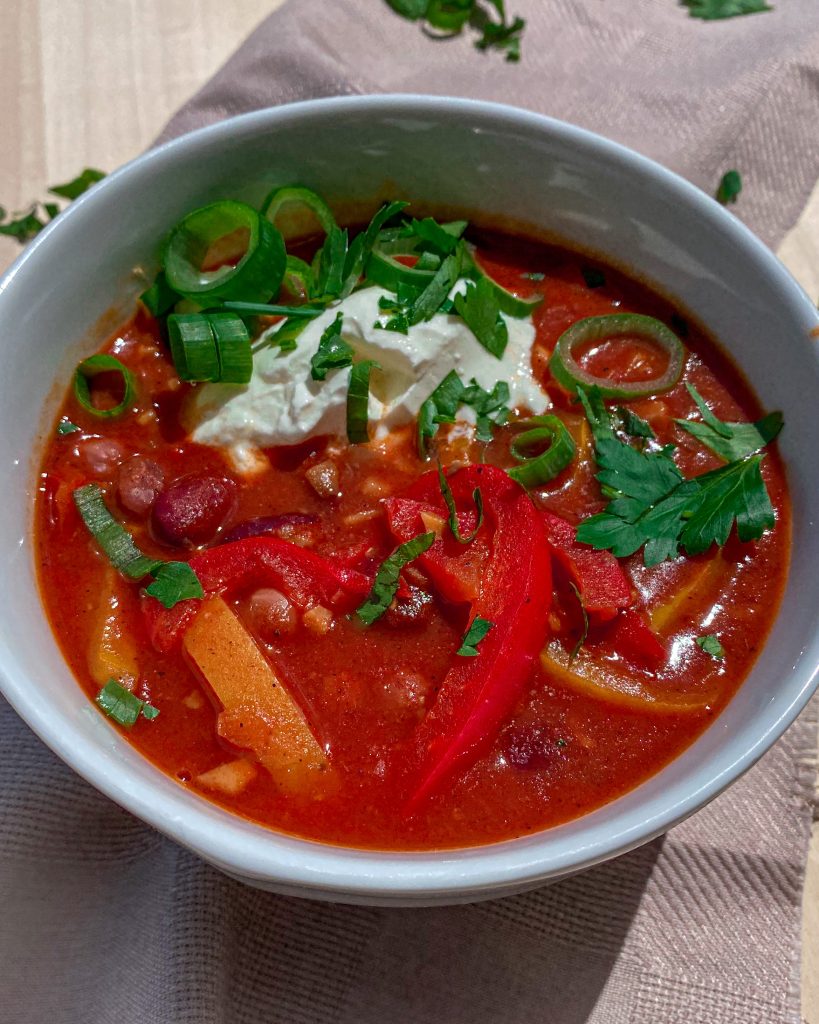 SK: Vegánske čili s kyslou smotanou
Podusíme cibuľu s cesnakom a čili paprickou. Teraz korenie: soľ, kmín, čierne korenie, paprika a kajenka paprika. Nechajte korenie marinovať cibuľu. Po 3 minútach pridajte úhľadne nakrájané huby, ktoré budu predstierať textúru mäsa. Zelenina – pouzila som žltú a červenú papriku, olej, aby sa šampiňóny nelepili na panvicu, fazuľa, 1 šálka zeleninového vývaru a 1 šálka paradajkovej passaty. Varíme všetko 15 minút.