Chocolate swirl banana bread with nuts and berry sauce is a very simple recipe where you only need two bananas. This banana bread is not too moist or dry. This loaf of perfectly balanced banana bread with a chocolate swirl is very easy to make at home as a last-minute dessert. The great thing about it is that it lasts in a fridge for a few extra days. Who doesn't like that?
A VIDEO RECIPE FOR CHOCOLATE SWIRLF BANANA BREAD WITH NUTS AND BERRY SAUCE
THE EASIEST DESSERT IN THE FOOD SPACE
This is my the most favorite thing about banana bread – it's so easy to make. We usually make banana bread when the bananas we have at our house start to get brownish. I don't know anyone who buys soft brown bananas for banana bread. We all make the banana bread when we have ripped bananas at home, and we don't want to throw them out. Am I lying? (But for real, am I?)
The main ingredient of course is the banana. You don't need your electric mixer, any special ingredients and basically, you are free to use as much cocoa powder as you want. What a refreshing thing to do, haha. I love dessert recipes when I don't have to get all the kitchen equipment dirty. For this recipe, you need an egg whisker and a rubber spatula.
And what I consider as the best part of this recipe is the freedom of adding extra things – nuts, almonds, chocolate chips, raisins, cranberries, etc. You just throw them into the batter and bake. I wanted to get extra so I made the delicious berry sauce.
Meringue Roulade With Nutella
Meringue roulade with Nutella is crispy on the outside on creamy on the inside. With a touch of warm Nutella, it's literally a mouth-watering experience. The perfect dessert for your family and friends.
Check out this recipe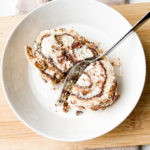 Sticky sesame chicken with honey sauce
This is a quick and 30 minutes recipe. An ideal recipe for lovers of meat and honey. I don't usually eat meat, but if I do – oh boy. It has to be something special. And this recipe is exactly IT.
Check out this recipe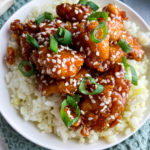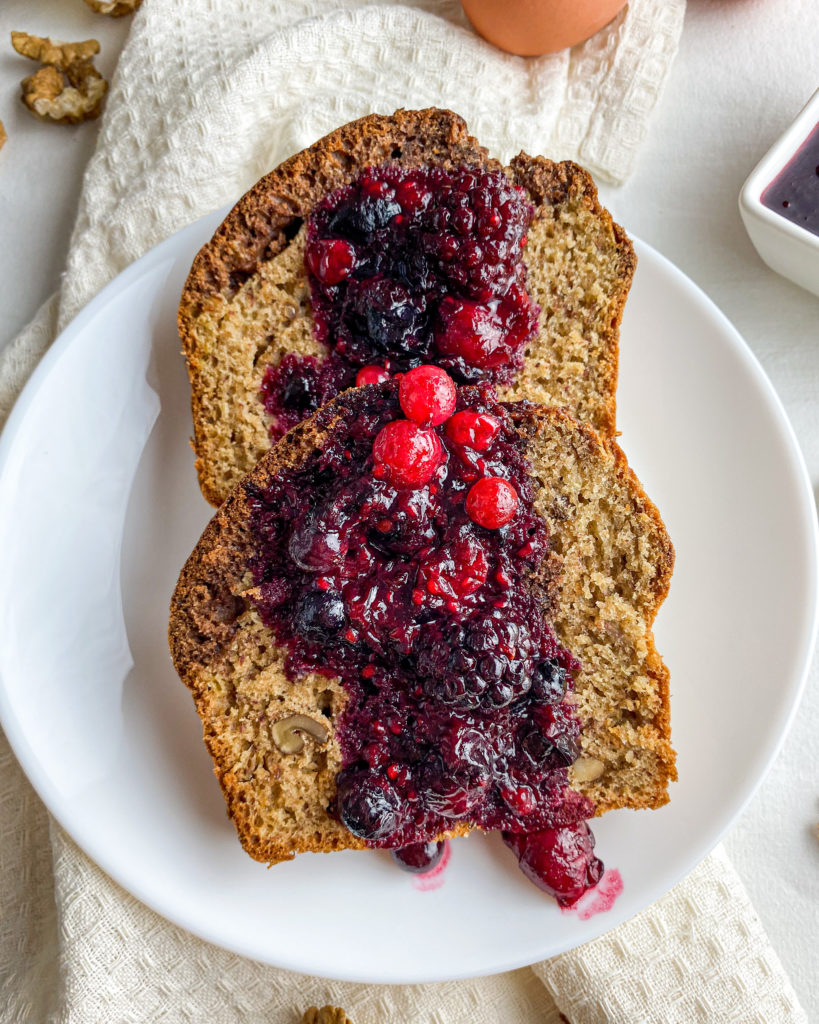 MELTED BUTTER, BERRY SAUCE AND NUTS
I think these are three special ingredients I used for this chocolate swirl banana bread with nuts and berry sauce. Melted butter will make other flavors stand out but also add creaminess to the bread. Bread will not be dry thanks to the melted butter as well. And the ripped bananas. I wisely chose the amounts of dry and wet ingredients just to make this bread perfect. I am not a fan of too heavy, moist, and wet banana bread. I like the perfect "in-between" when the bread is still soft and has this nice shine from all the fat ingredients, but also has this nicely dry cake texture. And this one is exactly that.
Berry sauce came and spiced the things up. I cooked forest fruit in the pan with butter and brown sugar. Brown sugar always adds the caramel undertones and goes well with other spices I used in the batter. You can buy frozen forest fruits and defrost them before using them. Or get the fresh berries. You can cook them on medium-low heat for 10 minutes. This berry sauce can be used many times for days, just keep it in the fridge and heat up before using it again. I prepared the same berry sauce for the French toast I made earlier. You can check out the video recipe on my Instagram.
In case you would love to see more recipes look at the main courses I have on this blog or more dessert recipes 🙂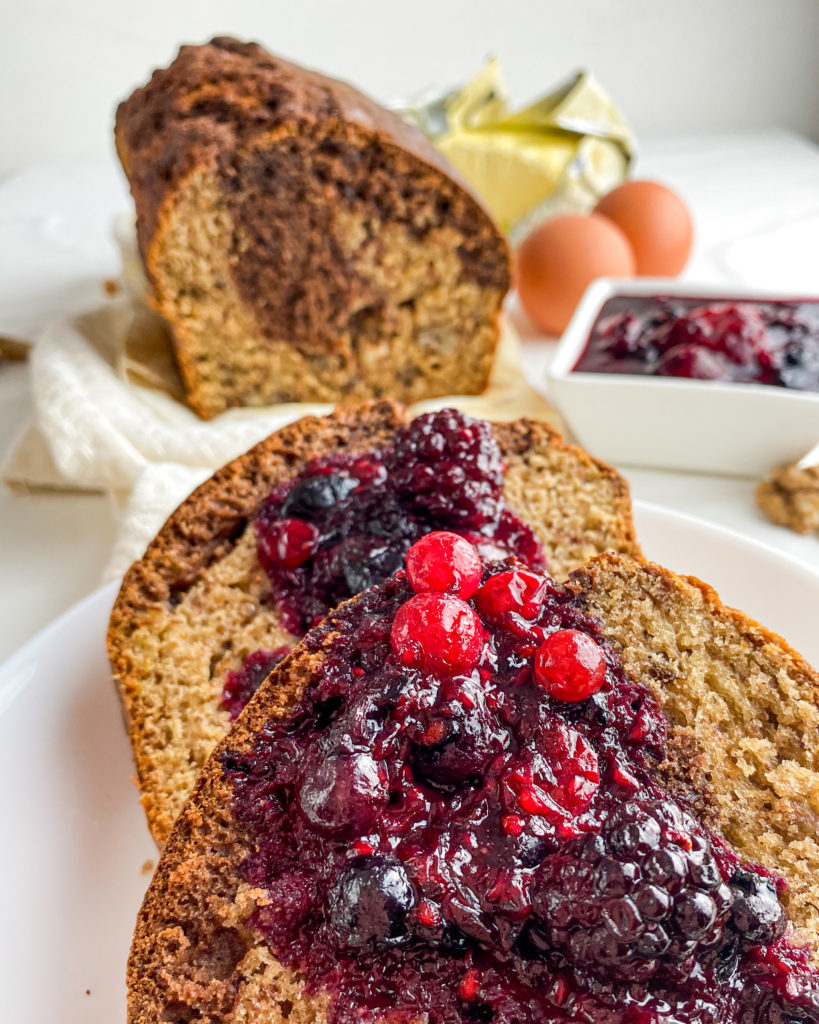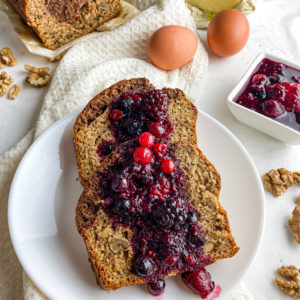 Chocolate Swirl Banana Bread With Nuts And Berry Sauce
If you are dreaming about banana bread that has both vanilla and chocolate parts, I got you. Soft banana bread is delicious and incredibly easy.
Ingredients
2 eggs
2 ripped bananas
50 g melted butter
100 g brown sugar
60 g crystal sugar
120 ml full fat milk
300 g cake flour
2 tsps baking powder
1 tsp baking soda
2 tsps cinnamon
1 tsp cardamom
½ tsp nutmeg
cocoa powder to make the chocolate batter, you can add how much you want to
Berry sauce
1 tbs butter literally grab a full spoon of butter
1 tbs brown sugar
1 cup forest fruit a literal cup of frozen forest fruits
Instructions
Heat the oven to 180°C. Grease the bread pan and attach the baking paper on all sides.

In one bowl, mash the bananas. Add eggs, sugars and mix well. I used an egg whisker for all mixing.

Pour the cool melted butter, milk and mix again.

Add flour, baking powder, baking soda, cinnamon, cardamom, nutmeg and combine.

Sprinkle some flour over the nuts and add them into the batter.

The last step is to divide the batter into two parts. Add cocoa powder to one of them. Pour the vanilla batter first and then the chocolate on top. Bake for 45-50 minutes.
Berry sauce
Heat up the pan with butter, forest fruits and brown sugar.

Cook for 10 minutes while stirring occasionally.

Once the sauce is done, cut the banana bread into big pieces and pour the hot sauce over them.