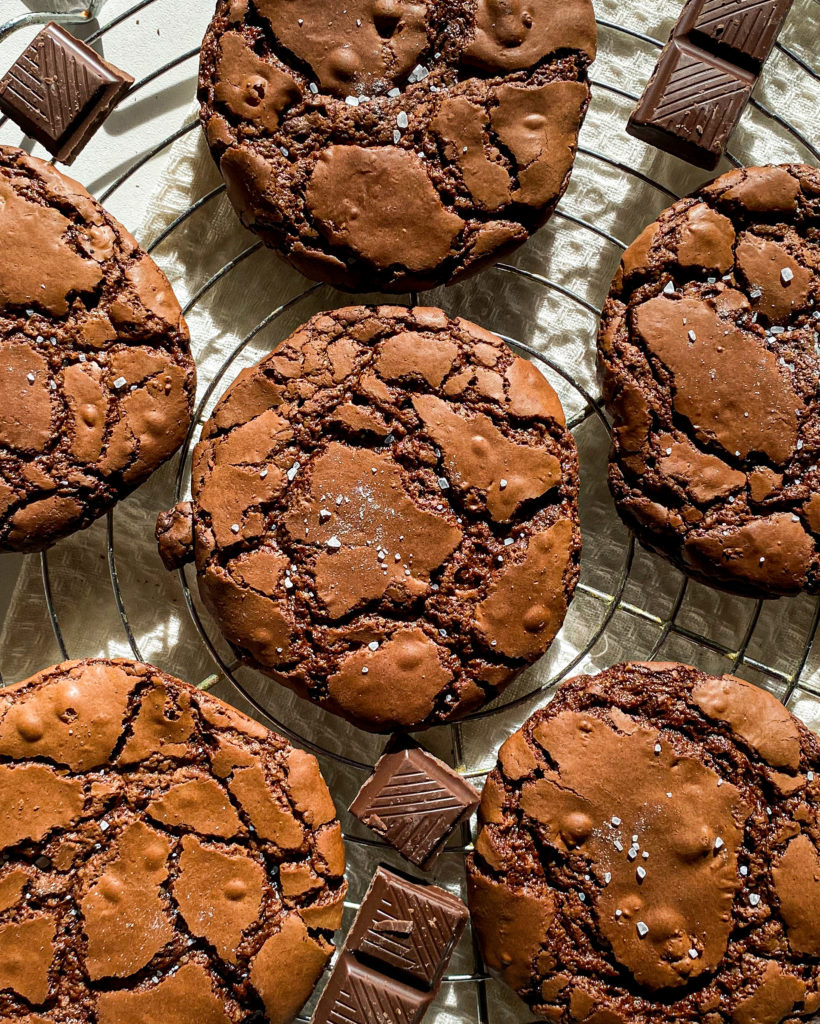 Brownie cookies are delicious and beautiful-looking cookies with a crackly texture. Milk chocolate cookies are flat, simple, and easy to make. They are great with vanilla ice cream, cappuccino, or tea. Try out this simple recipe for flat brownie cookies and let me know what you think!
VIDEO RECIPE FOR BROWNIE COOKIES
taste like small flat brownies
I am not going to lie – I went through a lot with them. As someone who learned how to bake at home, or watched her mum baking, I don't know everything about the process of creaming, air bubbles, adding too many fats, etc. So, my first batch of these cookies was horrible. Like the movie Cats bad.
They melted, spread to every side in the oven, and burnt. I tried to add more flour, keep them longer in the fridge, put them in the freezer. And then I realized, that these cookies are also not baking the same way as brownies. And the best part is – there is science behind every step.
This recipe was in the process of development for hours. My errors were very simple (now I know!), I added butter later. Just poured the melted butter into the batter and thought it was okay. Stirred it with a rubber spatula and that was it. Come on bro, what was I thinking? Of course, the fats melt in the oven, and cookies spread. I wanted to try something different than creaming butter with sugars. And eventually, after many errors, I added butter (fats) to chocolate for melting. And here we are, now we have beautiful flat brownie cookies 🙂
Would you like to see more cookies or try different recipes? Check out my recipe for Melting Lotus Biscoff Cookies or Red Velvet Cookies on my Instagram. Take a look at more recipes on my TikTok 🙂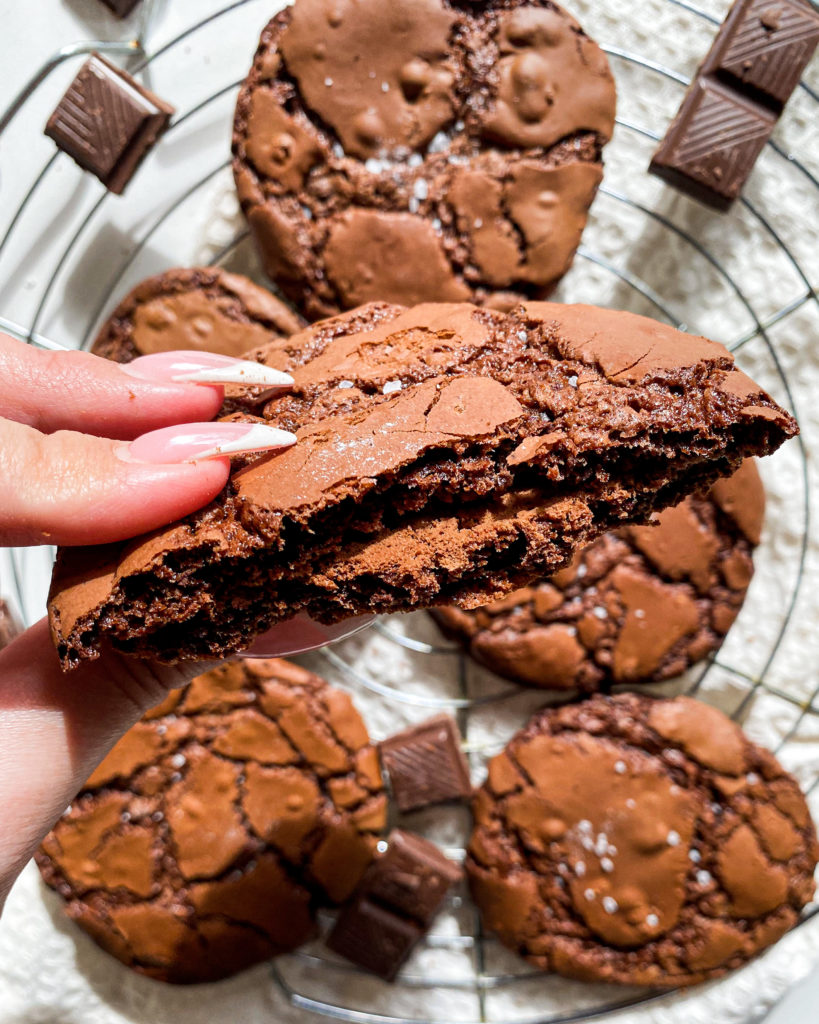 WHAT I THINK IS IMPORTANT TO KNOW:
Milk chocolate – I used milk chocolate instead of the popular dark one. I like the taste of milk chocolate in the cookies as well. Just melt 200 g of milk chocolate with butter in the microwave or over boiling water (water bath). But of course, for more luxurious cookies and better quality cookies, you can use dark chocolate.
Batter – The batter is kinda runny. You need to use a spoon or an ice cream scoop for scooping the batter on the baking sheet. For the regular size cookies (not too small and not humongous), I recommend using 1/2 tablespoon of batter. Letting the cookie dough chill in the fridge is not existing in this recipe. There is none. (Yaaay)
Cookies – My number one tip for every cookie baker is to put 3-4 cookies on the big baking tray (with a baking paper on top), as far away from each other as possible. A few people asked me how many cookies they should put on the baking tray before baking, but they also don't put the same amount of the cookie dough as I do in the recipe. So, choose your size of cookies, put the dough as far away from each other as possible, and try. You'll see how much they spread and if the size fits your desires. For me – 1/2 tbsp of cookie dough fit 5 cookies on the regular sized baking tray.
CHECK OUT MORE RECIPES FOR DESSERTS OR BREAKFAST!
Sea Salt Cookies With Salted Caramel
In case you are looking for a different cookie recipe, I have this one. Sea salt cookies with salted caramel are simple, easy to make, and the salted caramel recipe is involved in the article. You end up with beautiful, salty, chunky cookies.
Check out this recipe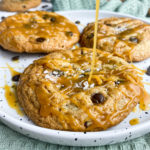 Punch Heart Cake
Would like to make something more cake-like? Punch cake can be your option number one. And the best part is – you can use rum in this recipe! Scroll on the bottom of the recipe for Punch balls that were VERY popular on my Instagram.
Check out this recipe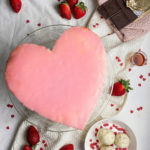 SIMPLE VERSION OF THE RECIPE:
200 g milk Chocolate
65 g Unsalted Butter
2 eggs
110 G BROWN SUGAR
100 g crystal sugar
mix until sugar dissolves, until creamy
add melted chocolate
90 g Plain Flour
17 g Cocoa Powder
1 tsp Baking Powder
1/2 tsp baking soda
1/2 tsp Salt
150 g chocolate drops
bake at 180C for 12 min
sprinkle with some sea salt (not necessary but yummy)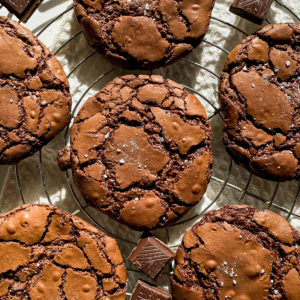 Brownie Cookies
A recipe for easy and delicious cookies that taste like small brownies. Flat cookies full of milk chocolate with crankly texture.
Ingredients
200 g milk chocolate
65 g butter
2 eggs
120 g brown sugar
100 g white crystal sugar
90 g plain flour
17 g cocoa powder
1 tsp baking powder
½ tsp baking soda
pinch of salt
150 g chocolate drops
Instructions
Preheat oven to 180°C (350°F) and line to baking trays with baking paper on.

Melt the chocolate with butter over boiling water or in the microwave. Let it cool. The mixture should be kinda thick.

Whisk the eggs and sugars until creamy. Sugar should completely dissolve. Whisk with an electric mixer for 5-6 minutes on high speed.

Add melted chocolate and whisk for 1-2 minutes on low speed. The batter should get thicker.

In one bowl mix flour, cocoa powder, baking powder, salt, and baking soda. Add to the chocolate batter and mix with the electric mixer for 30 seconds or until the flour disappears.

Add chocolate drops and combine with a rubber spatula.

Take a tablespoon or an ice cream scoop, and scoop about ½ tbsp of cookie dough on the baking tray. I recommend putting 4-5 cookies on one baking tray. Bake for 12 minutes.

Take cookies out of the oven, sprinkle with extra sea salt (optional) and let cool on the baking tray for another 10-12 minutes.
Notes
you can use milk or dark chocolate
you can use more chocolate drops or add finely chopped white chocolate 
make sure there are no lumps in the melted chocolate
add completely cool melted chocolate